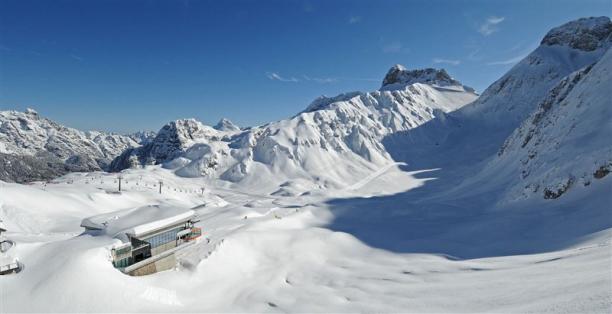 © • Carlo di Spaliviero
Sella Nevea is located in the valley between Monte Canin and the Jôf of Montasio. This area is known as the "glacier" of the Friuli Venezia Giulia. The reason is that this is traditionally the ski resort in the region that enjoys the longest season, giving ski lovers the opportunity to enjoy downhill skiing even in the first weekends of spring time!
The total ski area between Italy to Slovenia measures 15 km and gives the opportunity to test skiers of every level. Another tradition in this resort is thrilling off-slope skiing, providing an extra challenge for visitors.
Since 2007/2008, Sella Nevea has been a host resort for professional skiers as the venue of the FIS Training Centre. It has staged both able-bodied and Para competitions including World Cups, Europa Cups and FIS competitions.
Facilities
Its 17 slopes cover 15km of skiing area and range from altitudes of 1,103m to 2,133m above sea level. Other facilities include a swimming pool, indoor rock climbing, ice rink and fitness centre.
In addition, Sella Nevea is a mountain resort surrounded by uncontaminated nature; it is paradise on earth for all those who love the natural environment. It is no coincidence that the resort is often chosen as a base for mountaineering expeditions. People who really love winter sports and the great outdoors, will undoubtedly find in Sella Nevea their ideal and idyllic resort!
Location
The closest aiports to Sella Nevea are Ljubljana, Slovenia (100km) and Triest, Italy (120km), while the nearest railway stations at in Tarvisio, Italy (20km). Buses can then connect you to the resort by road.