PARA POWERLIFTING

Raushan Koishibayeva
7 March 1966 Kazakhstan
LATEST TRIUMPHS:

2018 Asian Para Games – Silver: women's up to 67kg

2018 Asia-Oceania Open Championships - Silver: women's up to 67kg
Find out about the full career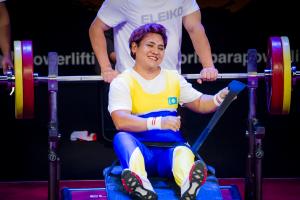 Raushan Koishibayeva is a veteran in the sport and one of Kazakhstan's main medal hopes ahead of their home 2019 World Championships in Nur-Sultan.
In 2018, she reached the podium twice in the women's up to 67kg at the Asian Para Games and the Asia-Oceania Open Championships, taking silver in both occasions behind Chinese Tan Yujiao.
Koishibayeva is also a Paralympic silver medallist, having finished second at Rio 2016. Thanks to that performance, she received the Order of Kurmet from the President of Kazakhstan.
She took up to the sport in Chundzha, Kazakhstan. "You can probably call it love at first sight. When I went to the gym for the first time, I realised at once that I was made for this sport."
Koishibayeva fell under a train in 1990. The accident resulted in the amputation of her legs below the knees.