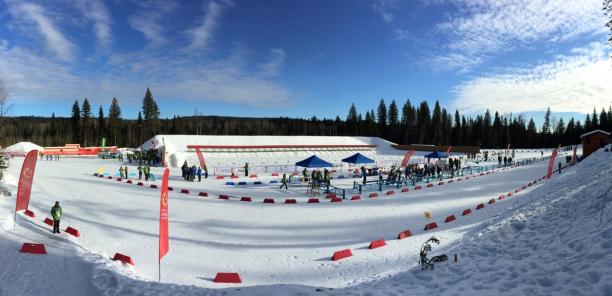 © • Prince George 2019
The competition
Prince George 2019 will run from 16-24 February, and is the sixth edition of the World Championships.
Vuokatti, Finland, hosted the first World Championships in 2009. The following edition took place in Khanty Mansiysk, Russia, in 2011.
Solleftea, Sweden, hosted the World Championships in 2013 and Cable, USA, in 2015. The last edition took place in Finsterau, Germany, in February 2017.
Ukraine topped the medals table at Finsterau 2017 with 19 gold, 16 silver and 12 bronze medals. Canada finished second and United States third.
The venue
The Otway Nordic Ski Centre is operated by the not-for-profit Caledonia Nordic Ski Club (CNSC).
Located minutes west of Prince George BC, the facility includes 55km of professionally groomed Nordic ski trails, LED lit trials for night skiing (~15km), dog friendly trails (~5km) and numerous snowshoe trails. The large, comfortable day lodge has heated accessible washrooms, a wax room, kitchen, ski school, and equipment rentals. Otway is also home to a world-class 30 lane biathlon range, a biathlon technical building, FIS homologated cross country race course (10km with LED lighting) and a large cross country technical building.
New for the 2018/19 season will be the introduction of snowmaking facilities as well as accessibility improvements to the lodge (in preparation for hosting the 2019 World Para Nordic Skiing Championships). These facilities allow for the hosting of local events up to national and international level races. Our program participation numbers and membership base are some of the highest in the country. Run by a dedicated volunteer board of directors, enthusiastic staff members and a huge volunteer base, Caledonia Nordic Ski Club welcomes you to Otway Nordic Centre.
The host city
Prince George is proudly located on the traditional territory of the Lheidli T'enneh, which stretches over 4.3 million hectares. The word lheidli means, "where the two rivers flow together" and t'enneh means, "the people".
It's called the Goldilocks Principle, when something is so well balanced that we say, "it's just right." For Prince George, it's the precise blend of urban and wilderness: not too busy, not too remote, where wildlife wanders among man-made monuments, and scarcely treaded mountains draw wild wanderers onward. Welcome to our just-right city nestled among thick forests and converging rivers, welcome to British Columbia's beating heart.
With a population of just over 75,000, Prince George is centrally located in the province's interior at the junction of Highway 97 and Highway 16. Our city is the major service centre for northern BC. Situated at the confluence of the Nechako and Fraser Rivers, we are surrounded by lush rolling foothills of coniferous forests that steadily creep upwards to the Rockies to the east, and the coastal mountains to the west. Prince George is a single day's drive from all corners of the province and offers daily air and bus service.
Our northern city is a mecca for outdoor enthusiasts, with 120 parks within city limits. A ten-minute drive in any direction brings visitors to hiking and biking trails, fishing spots, and swimming holes. In fact, there are over 1,600 lakes and rivers within 100km of Prince George!
In addition to our well known sport and recreation side, the city also has a thriving arts scene, and those searching for a cultural experience won't be disappointed. Prince George has a professional theatre company and symphony, world class art gallery, and two entertaining and informative museums. Prince George also enjoys a growing music festival scene.
The city is home to a top-notch food community with highly awarded restaurants and diverse festivals. There are plenty of options in here, from fine dining establishments and local eateries to family friendly restaurants and all the favourite fast food options. Even picky eaters will be satisfied by the wide variety of dining choices available in the city. If casual dining and a social atmosphere are your preference, rub elbows with athletes and spectators at one of our neighbourhood sports-themed pubs and restaurants. If you're looking for something exclusive, many of our local spots offer separate dining rooms for large parties. For athletes and teams on special diets, menus can often be customized to suit any dietary requirements and schedules.
Unique venues abound in Prince George, such as BC's northernmost winery, Northern Lights Estate Winery, where visitors can stop in for a tasting and tour of the vineyards located on the banks of the beautiful Nechako River -- the best picnic spot in town. We are also excited to announce the opening of Prince George's first craft brewery: CrossRoads Craft Brewing. Located in a beautifully renovated downtown building, the brewery features a great line-up of local brew and food options.
Prince George is truly a northern city and is rich with culture. Our exceptional facilities, community spirit, and event hosting experience will provide the perfect host community for the 2019 World Para Nordic Skiing Championships.