PARA NORDIC SKIING

Nils-Erik Ulset
18 July 1983 Kristiansund, Norway
LATEST TRIUMPHS:

2015 IPC Biathlon and Cross-Country Skiing World Championships - Silver: middle distance biathlon; Bronze: sprint biathlon and 4 x 2.5km cross-country relay

2014-15 IPC Biathlon World Cup - Overall second

2013-14 IPC Biathlon World Cup: Overall second

2013 IPC Biathlon and Cross-Country Skiing World Championships - Gold: long distance biathlon

Vancouver 2010 Paralympic Winter Games - Gold: middle distance biathlon; Silver: 3km pursuit biathlon and long distance freestyle cross-country; Bronze: 1x4 and 2x5km relay open
Find out about the full career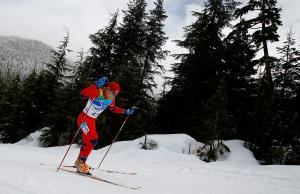 Ulset is into his second decade at the very top of Nordic skiing.
Now in his thirties, at Sochi 2014, Ulset collected his ninth, 10 and 11th Paralympic medal at his fourth winter Paralympic Games.
At his first Games in Salt Lake City in 2002, he won two gold medals in cross-country. Fast-forward to the 2013-14 and 2014-15 seasons, the incredibly adaptable Ulset finished as No.2 in the biathlon World Cup.
Earning four podium finishes across in IPC Biathlon World Cups in 2014-15, Ulset appeared to be focusing his attention on shooting and skiing going forward. He finished sixth in 2015-16.
Ulset will face challenges from many sides at the 2017 World Para Nordic Skiing Championships including Ukrainian world champion Ihor Reptyukh.
But with biathlon legend and fellow countryman Ole Einar Bjorndalen, the most decorated winter Olympian in history, as his idol Ulset has already entered the ranks as one of Norway's most successful para-Nordic skiers.
Follow us on Facebook
Follow us on Twitter