Yelyzaveta Mereshko doubles up in Lignano
26.05.2018
Ukrainian swimmer makes it two golds in two days at World Series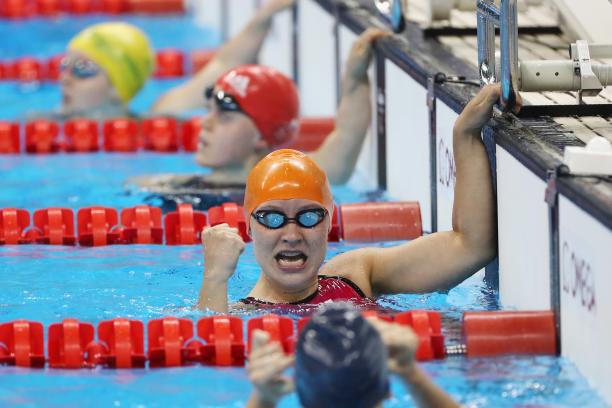 Yelyzaveta Mereshko made it two golds in two days at the Lignano Sabbiadoro World Series
© • Getty Images
By Adam Bailey | For the IPC
Ukraine's Yelyzaveta Mereshko won her second gold medal in as many days as Paralympic and world champions went head-to-head on day two of the World Para Swimming World Series in Lignano Sabbiadoro, Italy, on Friday (25 May).
This is the fourth event of this year's World Series, with all races featuring swimmers from multiple classifications. The medals are determined by a standardised points system, which led to a number of close finishes on day two.
This was the case in the women's 100m breaststroke final with just one point separating the gold medallist Yelyzaveta Mereshko (SB5, 940 points) and silver medallist Germany's Elena Krawzow (SB12). Beatriz Carneiro (SB14) was one of five Brazilian medal winners on day two as she completed the podium with 934 points.
Mereshko - who also won gold in the 100m freestyle on the opening day - was back on the podium collecting bronze in the women's 200m individual medley; another event which saw a close finish between a Paralympic and world champion.
Italy's SM13 world champion Carlotta Gilli beat Paralympic champion Rebecca Meyers (SM12) of the USA to the touch by one point to claim her third medal of the meet with 997 points.
The men's 200m individual medley also saw a battle of champions as 11-time Paralympic gold medallist Ihar Boki of Belarus claimed his first gold medal of this year's World Series.
The SM13 Paralympic and world champion scored 1020 points to finish ahead of Colombia's SM7 world champion Carlos Serrano Zarate (984 points). Ukraine's Denys Dubrov (SM10, 978 points) finished third.
After missing out on gold in the 200m individual medley, Serrano Zarate went one better in the men's 100m breaststroke, scoring 1051 points to secure the victory. Spain's Antoni Ponce Bertran (SB5, 1010 points) also passed 1000 points as he claimed silver, while Nelson Crispin (SB6, 991 points) ensured there were two Colombians on the podium.
Brazil's Daniel Dias (S5) was another world champion to triumph; claiming his second medal in as many days. Dias - who celebrated his 30th birthday on Thursday - improved on his 100m freestyle silver medal from the opening day by winning the men's 50m breaststroke final with 1038 points.
Italy's Vincenzo Boni (S3, 1001 points) and the Czech Republic's Arnost Petracek (S4, 988 points) finished second and third respectively.
There was also a Brazilian winner in the women's 50m backstroke as Edenia Garcia (S3, 954 points) finished 60 points ahead of Italy's Monica Boggioni (S5). Garcia was joined on the podium by her compatriot Susana Ribeiro (S4, 690 points).
Victory in the women's 50m breaststroke SB2-SB3 final went to Brazil's Patricia Pereira Dos Santos (SB3, 770 points) after she finished ahead of Canada's Tammy Cunnington (SB3, 308 points) and Italy's Angela Procida (SB2, 132 points), who claimed silver and bronze respectively.
There was a home winner in the men's equivalent as Italy's Efrem Morelli (SB3) won gold with 845 points. Spain's Miguel Luque (SB3, 829 points) was next to touch to claim silver, while bronze went to Michael Schoenmaker (SB3, 698 points) of the Netherlands.
The Lignano Sabbiadoro World Series continues on Saturday (26 May) with the 50m and 400m freestyle, the 4x100m medley relays and the mixed 4x100m freestyle relay.
Both the heats and the finals will be live streamed on World Para Swimming's website, with full results available here.