Yannick Bourseaux battles through the pain
14.06.2019
French triathlete determined to compete at home World Cup despite injury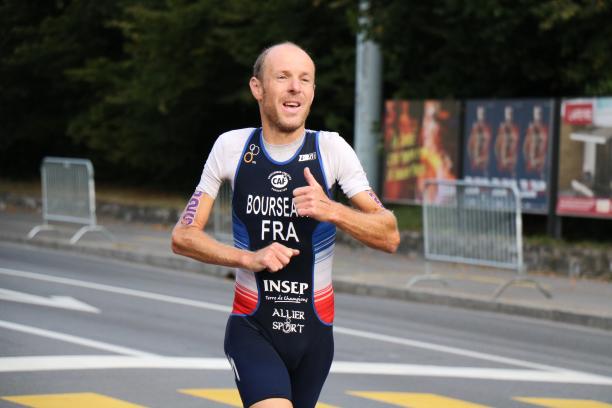 Yannick Bourseaux determined to be at his home Besançon World Cup despite injury
© • French Triathlon Federation
By Adam Bailey | For the IPC
France's Yannick Bourseaux might still be recovering from an Achilles injury, but he is determined to be on the start line at his home Besançon Para Triathlon World Cup on Sunday (16 June).
The former cross-country skier has had problems with his right Achilles since February. Despite the pain from the injury, Bourseaux says he wasn't going to miss his home event.
"My Achilles is sore, but I just have to respect the pain, continue physio treatment on it and be patient," Bourseaux says. "I can't do any sessions on the track or any speed work, so I can't be in the shape I should be to perform in competitions."
Age just a number
The 44-year-old will be the oldest triathlete in the men's PTS5 event, but he admits age is just a number.
"I don't feel older than the other athletes on the start line," the three-time Paralympian says. "I am always looking for ways to improve and even when you're over 40 with a large training background you can still improve. Last year we found some new tips which allow me to be faster in swimming and on the bike."
Bourseaux will be one of eight athletes competing in the men's PTS5, including Germany's three-time world champion Martin Schulz, who is the man to beat according to Bourseaux.
"I like Besançon's new venue, the atmosphere and the bike course," Bourseaux says. "With Martin [Schulz] at the start, grabbing the tape [first] can only be a dream for me, but I think there will be a big battle for the two other spots on the podium."
Devonport World Cup winner David Bryant of Australia and Aquathlon world champion Tetsuki Kaji of Japan are also likely to be challenging for the PTS5 podium spots, along with France's Antoine Besse and Hungary's Peter Boronkay.
Francis' rapid rise
While Bourseaux has been competing in International Para triathlons since 2005, his compatriot Mona Francis is still relatively new to the sport.
The 2017 Besançon World Cup was the PTWC athlete's first triathlon. Since then Francis has been a regular on the international podium and just missed out on a medal at last year's World Championships.
"Over the past two years I have learned a lot about myself, on how to manage a course and pace my effort," Francis says.
"I'm expecting first to see an improvement on the bike. The bike course is not easy, and we know that cycling is a sport that needs years of practice. I'm still a rookie. I just hope to improve my time from last year.
Francis adds, "I'm always excited to race in my country and Sunday will be a great moment."
The women's PTWC looks set to be one of the most competitive races in Besançon, with Francis flying the flag for France in an event which includes three-time world champion Kendall Gretsch of the USA and Commonwealth champion Jade Jones-Hall of Great Britain.
Also in action in Besançon will be Paralympic champion Andy Lewis of Great Britain in the men's PTS2, Finland's 2017 PTS2 world champion Liisa Lilja and multiple duathlon world champion Oliver Dreier of Austria in the men's PTS4.
The full entry list for the Besançon World Cup can be found on the International Triathlon Union's website.