World Series: Antoni Ponce dethrones Daniel Dias
12.06.2019
British swimmer Alice Tai ends top of the women's standings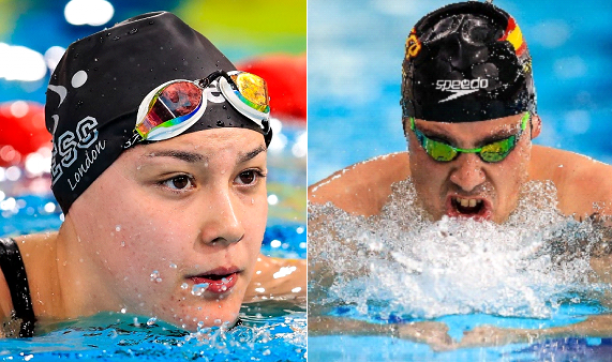 Alice Tai (left) and Antoni Ponce Bertran are the overall winners of the 2019 Para Swimming World Series
© • British Swimming
By World Para Swimming
Spaniard Antoni Ponce was crowned champion of the men's individual World Para Swimming World Series for the first time, while Alice Tai became the second Brit to end top of the women's individual standings following the last event in Berlin, Germany.
The scores for the overall rankings are calculated by adding up the swimmers' two best point scores achieved in two different World Series events.
Ponce finished top with 4,166 points thanks to his performances at the Glasgow and Lignano Sabbiadoro World Series. Therefore, he dethroned Brazil's most decorated Paralympian Daniel Dias who had won the two first editions.
Ponce, who in 2017 took his first world title in Mexico City, is hoping to keep the momentum ahead of the London 2019 World Championships and Tokyo 2020 Paralympic Games.
Italian Simone Barlaam (4,124 points) and Great Britain's Reece Dunn (4,124) shared the second position in the overall rankings.
Alice Tai claims her first World Series title
Rio 2016 Paralympic champion Tai won the women's series with 4,329 points after stunning performances in Glasgow and Berlin – where she broke six world records in four days of competition.
Tai became the second British swimmer to win the women's World Series title after Louise Fiddes claimed it in 2018.
New Zealand's multiple-Paralympic champion Sophie Pascoe (4,160) ended second, while Tai's teammate and London 2012 gold medallist Jessica-Jane Applegate (4,037) finished third.
Other winners
Chilean Alberto Abarza (3,725) secured the men's S/SB 1-3 High Support Needs title for a third consecutive year. It was an all-Latin American podium as Mexican Diego Lopez Diaz (2,064) and Brazilian Bruno da Silva (1,862) completed the top-three.
In the women's equivalent, USA's Leanne Smith (3,547) came in first ahead of Singapore's three-time Paralympic champion Yip Pin Xiu (3,464) and Mexico's Viviana Perez (2,231).
Great Britain dominated the junior categories courtesy of Maisie Summers-Newton, who won the women's title, and Louis Lawlor, who finished top of the men's standings.
The National Paralympic Committees' title was awarded to Great Britain (16,448), who were followed by Spain (15,643) and USA (15,568).
Full rankings are available on World Para Swimming's website.