World Cup wins for Rothfuss, Etherington, Salcher
30.01.2014
Swiss and Italian skiers also ski to victory in IPC Alpine Skiing World Cup in Tignes, France.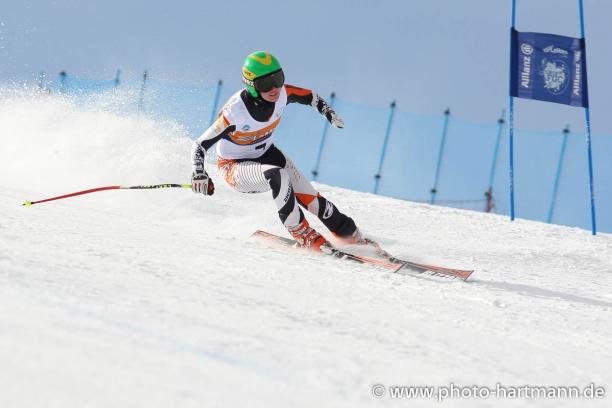 Germany's Andrea Rothfuss will challenge France's Marie Bochet for a spot on the podium at the Sochi 2014 Paralympic Winter Games.
© • Marcus Hartmann
By IPC
"I tried to make a better performance and I think I had a good run."
Germany's Andrea Rothfuss recorded her first IPC Alpine Skiing World Cup downhill victory of the season over French world champion Marie Bochet in Tignes, France on Wednesday (29 January) to set up what should be a thrilling rivalry at March's Sochi 2014 Paralympic Winter Games.
Bochet, who won five world titles in 2013, has beaten Rothfuss twice in women's World Cup standing downhill races this season, most recently on Tuesday. However, 24 hours later Rothfuss (1:24.35), a downhill world silver medallist behind Bochet (1:24.78) last year, claimed a much needed confidence boosting victory over her French rival.
Rothfuss, who also record a super-combined win over Bochet earlier this month at the World Cup in Panorama, Canada, said: "We had a training and race day yesterday [Tuesday 28 January], so we got some experience of the slope and the course. I tried to make a better performance and I think I had a good run."
Russian Inga Medvedeva (1:28.33) completed the podium in third.
After chalking up her first World Cup win on Tuesday, Great Britain's Jade Etherington and guide Caroline Powell (1:29.58) stood top of the podium again in the women's visually impaired. The pair edged out teammates Kelly Gallagher and Charlotte Evans (1:30.04) into second and the U.S pair of Danelle and Rob Umstead (1:33.13) into third.
"We communicated very well today and we felt really good. Happy to win for the second time in two days," Etherington said.
Downhill world champion Austrian Markus Salcher (1:18.41) topped an all-star men's standing podium for the second day in a row, to record his third World Cup victory of the season. He led home his Swiss rival Michael Bruegger (1:21.87) into second, and French double world champion Vincent Gauthier (1:22.37) in third.
The top two finishers in the men's visually impaired race were identical to Tuesday's race. Italy's Alessandro Daldoss and guide Luca Negrini (1:17.40) again sealed victory ahead of Slovakia's Miroslav Haraus and guide Maros Hudik (1:18.49). Another Slovakian pair Jakub Krako, guided by Martin Motyka (1:19.36) finished third.
Switzerland's Christoph Kunz (1:21.02) underlined his credentials as a medal contender for Sochi 2014 with victory in the men's sitting. The world giant slalom bronze medallist from last year finished ahead of the Netherlands' Kees-Jan van der Klooster (1:22.27) in second and Germany's Thomas Nolte (1:24.85) in third.
In the women's equivalent, Nolte's teammate Anna Schaffelhuber was the only skier to finish her run. The slalom world champion finished in 1:28.10 to add another 100 points to her World Cup lead.
Races continue in Tignes on Thursday (30 January) with giant slalom and conclude on Friday (31 January), before skiers head to St. Moritz, Switzerland, from 3-6 February.
The IPC Alpine Skiing World Cup Finals will be held in Tarvisio, Italy, from 24-27 February and will be the last opportunity for skiers to compete ahead of Sochi 2014 where alpine skiing competitions begin on 8 March.
Rankings are available at http://www.paralympic.org/alpine-skiing/rankings.
Daily highlights videos from Tignes can be found at www.bloghandicap.com and pictures are available at the IPC's Flickr account or search #Tignes.