World Cup speed races decided
28.01.2015
Double victory for Marie Bochet as skiers complete two downhill races with just one month until the 2015 Worlds.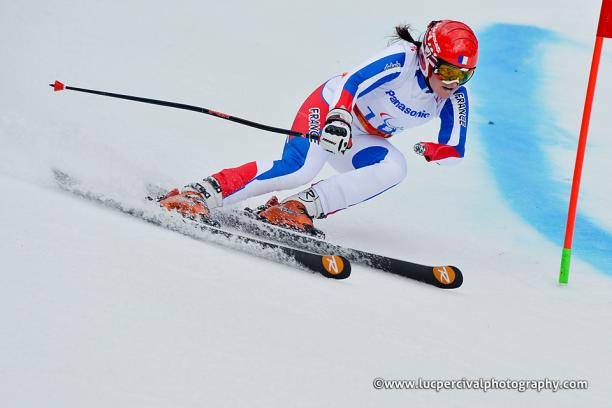 Marie Bochet, France gets the gold in the Women's Giant Slalom.
© • © Luc Percival Photography
By IPC
The races were the first opportunity for skiers to take part in downhill at a World Cup this season.
The world's top speed skiers traded blows in two downhill races at the 2014-15 IPC Alpine Skiing World Cup in Tignes, France, on Tuesday (28 January), just one month before the 2015 World Championships start in Panorama, Canada.
The races were the first opportunity for skiers to take part in downhill at a World Cup this season.
In the women's standing the podium was the same for both races, with the host's Marie Bochet taking a double victory.
Second was German rival Andrea Rothfuss and Dutch skier Anna Jochemsen was third.
The men's equivalent saw world and Paralympic champion Austrian Markus Salcher also seal two wins. Finishing ahead of Switzerland's Thomas Pfyl (1:01.56) and Russian Alexey Bugaev (1:03.07) in the first race, Salcher posted a time of 1:01.06.
In the second downhill, Salcher (1:01.41) beat Bugaev (1:04.54) again but this time France's Roman Riboud (1:04.67) was third.
The women's sitting featured a win for Austria's Claudia Loesch (1:05.46) over Germany's Paralympic champion Anna Schaffelhuber (1:05.80). The USA's reigning world champion Laurie Stephens (1:15.27) was third.
Loesch however failed to finish in the second race, leaving the way clear for Schaffelhuber (1:04.36) and Stephens (1:10.43) to take first and second.
Japanese Paralympic champion Akira Kano (1:01.27) beat Switzerland's Christoph Kunz (1:03.23) in the first men's sitting race. US skier Christopher Devlin-Young (1:03.59) was third.
France's Frederic Francois (1:01.81) triumphed over Kano (1:02.58) in the second race whilst Roman Rabl (1:03.06) took another podium for Austria in third.
The result in the men's visually impaired boded well for World Championships hosts Canada, with Mac Marcoux (1:00.83) and guide brother BJ taking the win in the first race. They led the USA's Mark Bathum (1:01.10) and guide Cade Yamamoto and Slovakian Miroslav Haraus (1:02.06), guided by Maros Hudik, onto the podium.
Bathum (1:01.28) took victory in the second race however, beating Marcoux (1:01.49) and Haraus (1:01.51) who completed the top three.
Bathum's teammate Danelle Umstead won both the women's visually impaired races with husband guide Rob.
Races continue in Tignes on Thursday (29 January). The schedule has been modified due to bad weather and two super-G events will now take place to round-off the competition.
Full results are available at IPC Alpine Skiing's website.
Media accreditation for Panorama 2015, which will feature around 130 of the world's best skiers from 30 countries competing between 28 February-10 March, is also open at Panorama2015.com.