Which sledge hockey player are you most like?
17.04.2014
We learned a lot about ice sledge hockey's player personalities at Sochi 2014, so take a minute to reflect and find out who you are most similar to.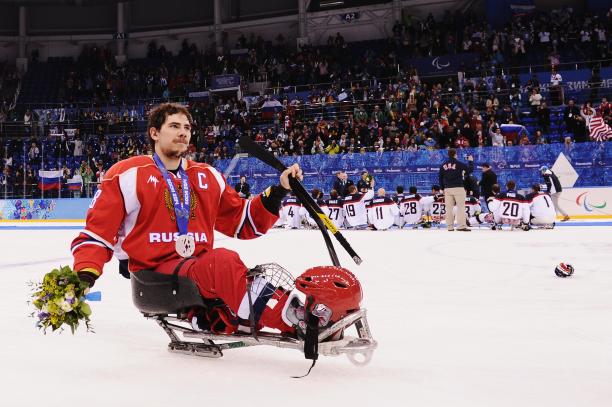 Russian ice sledge hockey captain Dmitry Lisov celebrates his silver medal at the Sochi 2014 Paralympic Winter Games.
© • Getty Images
By IPC
The top three finishers in ice sledge hockey at Sochi 2014 were the USA, Russia and Canada.
Dmitry Lisov (Russia)
Position: Forward
Sochi 2014: Silver medallist
While he does not always see himself as a leader, his teammates have the utmost confidence in him and those around him see him in the highest regard. That was shown when Russia elected him as their new team captain just prior to the Sochi 2014 Paralympics. If your friends or family see you as a leader and motivator, then you are just like Russia's Paralympic silver medallist.
Florian Planker (Italy)
Position: Forward
Sochi 2014: Sixth place
The leading scorer for Italy likes to play it cool with his laid-back attitude and swagger. He is one of the fiercest forwards on the ice, but never seems to get rattled and always takes everything in stride. If you sat at the cool kids' lunch table in school, than Planker was probably right alongside you.
Greg Westlake (Canada)
Position: Forward
Sochi 2014: Bronze medallist
His opponents do not call him the "chirper" for nothing. Canada's team captain is always chatting remarks at his opponents on the ice, trying to knock them off their concentration. If you like to stir the pot, but at the same time are extremely passionate about what you care about, then you are just like world champion Westlake.
Josh Pauls (USA)
Position: Forward
Sochi 2014: Gold medallist
Are you always cracking a joke when everyone else has a straight face? Do your friends rely on you to lighten up the moment with a funny story? Then you are similar to the American forward and two-time Paralympic champion, who says he should never be taken seriously except when he is in game-mode on the ice.
Michal Vapenka (Czech Republic)
Position: Goaltender
Sochi 2014: Fifth place
Physically, Vapenka towers over most of his teammates and players as one of the sport's tallest and most intimidating players in the world. While he is kind-hearted on the inside, anyone who likes to appear daunting toward others would mirror his menacing presence as a goaltender on the ice.
Per Kasperi (Sweden)
Position: Forward
Sochi 2014: Eighth place
Aggressive perseverance is what Kasperi shows while at work on the ice, but away from his work, he is a quiet, mild-mannered 21-year-old. He is his own person, and on his 18th birthday got a tattoo which reads, "You can be different." If you are reserved, yet your own person who does your job well, then you could be Kasperi's long-lost twin.
Rolf Pedersen (Norway)
Position: Defenceman
Sochi 2014: Fourth place
Always the veteran leader in the group, this four-time Paralympic defenceman is often seen offering advice to up-and-coming players. He embraces his leadership role more than Lisov, as he has been in the role for quite some time. All self-confident leaders will easily identify with Pedersen.
Seung-Hwan Jung (South Korea)
Position: Forward
Sochi 2014: Seventh
The speedy forward is serious about everything he does and will not crack a smile until after a sledge hockey game is completely finished. Jung has as much dedication to the sport as anybody, and if the words "drive" and "determination" define you, then you can align yourself with him.