What to watch: November
02.11.2012
Here's a brief run-down of the top Paralympic sporting events around the world to keep your eyes on in November.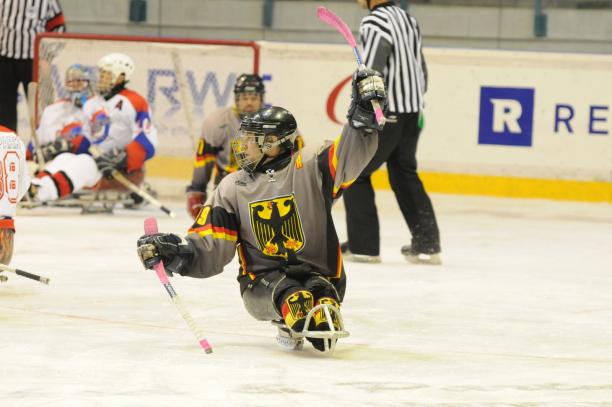 After missing out on the Vancouver 2010 Winter Paralympic Games, Germany's ice sledge hockey team is ready to make a run at Sochi 2014.
© • Getty Images
November will feature major events in athletics, wheelchair tennis, wheelchair fencing, ice sledge hockey, alpine skiing and wheelchair curling.
World Wheelchair Curling Qualification tournament (3-8 November): Eleven teams will make a run at trying to qualify for next year's World Championships in Sochi, Russia, but only the top two from this tournament in Finland will advance. Turkey will make their international wheelchair curling debut at this event, joining 10 other teams including: the Czech Republic, Denmark, Finland, Germany, Italy, Japan, Latvia, Norway, Poland and Switzerland.
New York City Marathon (4 November): Despite hurricane Sandy, the New York City Marathon will go on, as Australia's Kurt Fearnley, Switzerland's Marcel Hug and Canada's Josh Cassidy look to the lead pack in the men's event. USA's Tatyana McFadden and Shirley Reilly, along with Great Britain's Shelly Woods and Switzerland's Edith Wolf will highlight the women's race.
NEC Wheelchair Tennis Masters (7-11 November): The world's best wheelchair tennis talent will be on display at this tournament in Belgium, including London 2012 singles gold medallists Esther Vergeer and Shingo Kunieda.
Challengers on the men's side also include world No. 1 and 2 Stephane Houdet and Maikel Scheffers, in addition to Argentina's Gustavo Fernandez and Great Britain's Gordon Reid.
Aniek van Koot, Sabine Ellerbrock and Marjolein Buis could be some of Vergeer's toughest opponents on the women's side.
The quads division will feature Great Britain's Andy Lapthorne, Sweden's Anders Hard and USA's Nick Taylor and David Wagner.
IPC Ice Sledge Hockey B Pool World Championships (12-17 November): The world's second top tier of teams will take to the ice in Novi Sad, Serbia, with the first and second-place finishers moving up to the A Pool for 2013. The tournament will feature Germany, Russia, Poland, Austria, Sweden and the Netherlands. Sweden is the only country competing to have ever won a medal at the Paralympics, while it will be the first major international tournament for Austria.
IPC Alpine Skiing Europa Cup (29 November – 1 December): Some of the top alpine skiers will take to the slopes in Austria for this year's first Europa Cup event. Athletes will compete in slalom, giant slalom and super-G races.
IWAS Wheelchair Fencing World Cup (29 November – 2 December): The first major international wheelchair fencing competition since London 2012 will take place in Eger, Hungary. Hosted by the Hungarian Paralympic Committee, the event will feature men's and women's foil, epee and sabre events, in addition to a team event.