Vote now for the Allianz Athlete of the Month – July 2015
04.08.2015
The public has until Tuesday 11 August to vote for their favourite from the five candidates.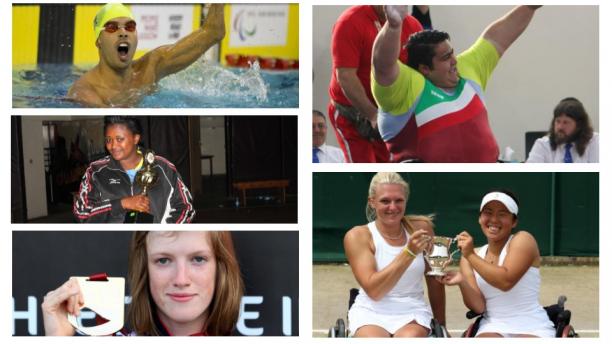 Daniel Dias, Siamand Rahman, Lilian Mukobwankabo, Sophie Hahn and Jordanne WHiley have been shortlisted for the Allianz Athlete of the Month poll for July 2015.
© • IPC
By IPC
Five para-athletes have been shortlisted for the Allianz Athlete of the Month poll for July 2015 and the public are now invited to vote for their winner via www.paralympic.org.
The nominations for July 2015 are:
Daniel Dias, Brazil, swimming
The Brazilian won seven men's S5 and SB4 gold medals in seven days at the IPC Swimming World Championships in Glasgow, Great Britain. He left as the most decorated athlete.
Sophie Hahn, Great Britain, athletics
The 16-year-old broke the 100m T38 world record with a time of 13.00 seconds at the Anniversary Games in London, Great Britain.
Lilian Mukobwankabo, Rwanda, sitting volleyball
Captain of the Rwandan women's team, Mukobwankabo helped her team come back from a 2-1 set deficit to defeat Egypt in the ParaVolley Africa Sitting Volleyball Championships finals in Kigali, Rwanda. The win secured a qualification slot for Rwanda at Rio 2016, the first time a women's sitting volleyball team has qualified for a Paralympic Games.
Siamand Rahman, Iran, powerlifting
Rahman has now broken the men's over 107kg world record eight times in the span of 15 months after adding to the best twice at the 2015 IPC Powerlifting Asian Open Championships in Almaty, Kazakhstan, with a final lift of 295kg.
Jordanne Whiley, Great Britain, wheelchair tennis
Partnered with Japan's Yui Kamiji to retain their Wimbledon doubles title, which was Whiley's first time defending a title. Whiley also won British Open singles title, her first Super Series title.
The public has until 12:00 (CET) on Tuesday 11 August to vote for the athlete they want to be the Allianz Athlete of the Month for July 2015 via the www.paralympic.org homepage.
The nominations are compiled from submissions by National Paralympic Committees (NPCs) and International Federations (IFs).
The 2015 winners so far are:
January – Andrew Soule, USA, Nordic skiing
February – Chris Vos, Netherlands, snowboard
March – Maksym Nikolenko, Ukraine, table tennis
April – Nigel Murray, Great Britain, boccia
May – Martina Caironi, Italy, athletics
June – Eduard Ramonov, Russia, football 7-a-side