Vio continues winning ways at World Cup in Eger
16.02.2016
The 18-year-old Italian extends her unbeaten streak into 2016 with gold in Eger, Hungary.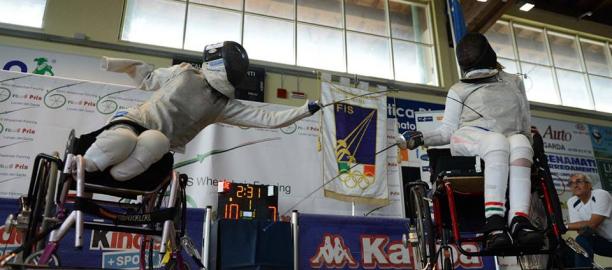 Beatrice Vio duelling with Dani Gyongi at the 2013 IWAS Wheelchair Fencing Grand Prix
© • Augusto Bizzi
By Mike Stuart | For the IPC
Italy's Beatrice Vio extended her unbeaten run to nine competitions following her latest victory at the International Wheelchair and Amputee Sports Federation (IWAS) Wheelchair Fencing World Cup held 10-14 February in Eger, Hungary.
The 18-year-old looked stronger than ever as she cruised to gold in the women's category B foil competition, beating Russia's Ludimila Vasileva 15-3 in the final. Vio's last defeat came at the Grand Prix event in Warsaw, Poland, back in 2014.
Double for Datsko
Ukraine's Anton Datsko was also in unstoppable form in Eger. Having already sealed gold in the men's foil category B with a win over Great Britain's Dimitri Coutya, Datsko faced off against Italy's Alessio Sarri in the sabre event final. In a thrilling encounter, Datsko scored the last crucial point in the bout to take the title 15-14.
In the men's epee category A, Great Britain's Piers Gilliver looked to be on course for his first gold medal in five events as he overwhelmed Russia's Viktor Dronov 15-1 in the semi-final. But Dronov's countryman Artur Yusupov proved too strong in the final, taking the gold by a single point.
Overall it was the Chinese squad that dominated the podium places in Eger. China's fencers left Eger with 14 medals in total, including four golds.
In the women's epee category A, Xu Feng Zhou erased the memory of an uncharacteristic ninth-place finish at December's World Cup in Sharjah, United Arab Emirates by winning the title in Eger. Zhou beat compatriot Chuncui Zhang 15-11 in the final to seal victory.
Host Hungary hits success
China's women were denied a further gold in the team foil event. To the delight of the spectators in Eger, the Hungarian team of Gyöngi Dani, Eva Hajmasi and Zsuzsanna Krajnyak topped the podium after a narrow 45-42 victory.
Unfortunately for the home fans, Krajnyak was not able to repeat this feat in individual competition. The crowd-favourite had to settle for bronze in the women's after Krajnyak fell to China's Jing Bian in the semi-final. Bian was then beaten 15-9 by teammate Jing Rong in the gold medal match.
In the men's team epee event, Russia emerged victorious, winning against France in the final.
Next up will be the IWAS Asian Championships held 6-11 April in Hong Kong, China.