Vilde Nilsen: The teenage talent
08.02.2019
Paralympic medallist ready to top the world in Prince George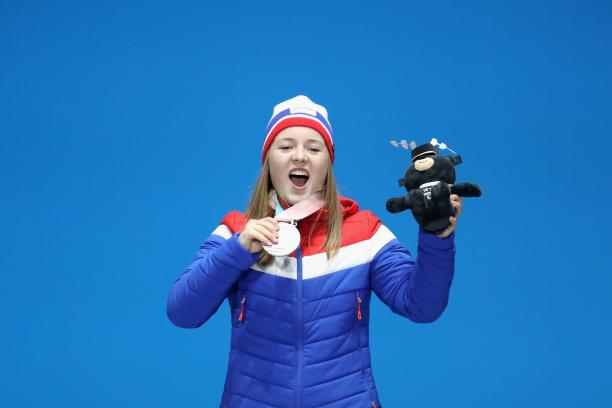 Vilde Nilsen was one of the breakthrough stars to medal at PyeongChang 2018
© • Getty Images
By Louise Wood | For World Para Nordic Skiing
Norway's Vilde Nilsen grabbed everyone's attention at the PyeongChang 2018 Paralympic Winter Games when she won the silver medal in the cross-country sprint. It was the 18-year-old standing skier's first experience at the Games and it has fired her up for this month's World Championships.
"A gold medal? That would be really fun. It's the cross-country sprint that is my goal so we will see," said Nilsen. "Now I have three wins in Vuokatti, Finland, so I hope maybe more medals in different distances."
She has made herself into one of the favourites to medal in Prince George, Canada, from 15-24 February, sweeping the cross-country races and picking up two second places in biathlon at the first World Cup in Vuokatti.
At round two in Ostersund, Sweden, she continued that great form with gold in the cross-country middle and sprint and silver in the long distance.
All that success has brought her more into the public eye in Norway and it something that she has been embracing.
"A lot of newspapers are interviewing me and also the media has been calling me and asked for several interviews. More people know about me and that's really fun."
Training hard
The key to her amazing season started back in the summer after the Paralympics. Incredibly motivated she has put in huge amounts of training even when she is supposed to be on holiday.
"I did a lot of training with the Norwegian team and we have been on a lot of training camps. I had two weeks of holiday when I was with my family but I also trained then," continued Nilsen. "I was a week in Sweden and it was in the snow tunnel and I went on skis. I have not been sick so that's very positive. I feel great and feel stronger than before."
Skiing in the blood
Nilsen contracted linear scleroderma in her left foot, leg, thigh and hip when she was eight. The condition attacks the skin, muscles and connective tissue and resulted in restricted mobility in the joints, less muscle mass and a leg length difference. Like most Norwegians she grew up on skis and Para Nordic was the logical route for her to take.
"I started skiing when I was three years old because of my family. They took me on ski trips in the wild. It was like a thing my family have done all the time. I've done it since I was three years old and it's always been part of my life. I started biathlon when I was nine years old and I loved shooting. It's really fun."
Check out more information on the World Para Nordic Championships on the official Prince George 2019 website.