From veterans to rookies: Two triathlon journeys
22.11.2018
Reppe and Elmlinger share challenges of switching to new sport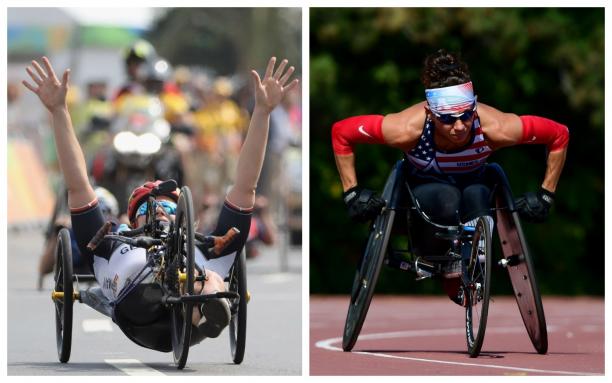 Christiane Reppe (L) and Kelly Elmlinger have completed their debut seasons in Para triathlon after switching sports
© • Getty Images
By Adam Bailey | For the IPC
Germany's Christiane Reppe and USA's Kelly Elmlinger have won countless medals in cycling and wheelchair racing, respectively. But 2018 saw the two sporting veterans contest their first season as Para triathlon rookies.
The decision
The switch to triathlon was a new challenge for Reppe, who has won a Paralympic gold medal and four world titles in cycling; and Paralympic and world medals in swimming.
She had not watched a triathlon before deciding to take on the new challenge.
"I was missing the fire inside of me and competitions weren't fun anymore," Reppe said. "During the off-season I thought about my future in sport and personal goals. I couldn't see myself competing in Tokyo in a handbike anymore so I had to make a change."
For Elmlinger, triathlon has always been a target ever since she watched the sport on TV as a child.
But that was halted after she was diagnosed with synovial sarcoma - a rare form of cancer - in March 2013.
"I have wanted to do triathlons for years and, for so long, I have felt this has been a goal I have not been able to achieve," Elmlinger said. "I have fought hard to get back running again, so when the opportunity of competing in the Para triathlon arrived, I wasn't backing down."
Emotional moment
Elmlinger has won 35 gold medals across swimming, cycling and athletics at Invictus and Warrior Games - Para sport competitions for wounded servicemen and women.
Earlier this year, the 39-year-old competed in her first Para triathlon at the USA National Championships in June. Just three months later, Elmlinger lined up at September's World Grand Final in Gold Coast, Australia.
"Normally, this is not how you would introduce someone to the sport by putting them into Worlds as their first international race experience," Elmlinger said. "I am not normal and once our national coach suggested trying to get on the start list for the Worlds, I jumped on that opportunity."
Not only has Elmlinger had to adapt to a new sport, but she has also had to learn to run again.
"I did not have the ability to run for five years, so this has been many years in the making for me to finally be in this sport," the US triathlete said.
"The evening before the Grand Final, I was emotional while reflecting on the journey to this point. I have had many surgeries, equally as many complications and setbacks, but never veered from my goal of one day competing in Para triathlons and to get back running again."
Whirlwind journey
The journey was similarly rapid for Reppe, who competed at her first Para triathlon at October's World Cup in Portugal.
The German athlete needed to learn the rules of the sport. The racing chair was also a completely new and "funny" experience.
"After receiving the racing chair just a few days before the competition I didn't really have the time to train in it," the 31-year-old said. "The night before the competition I was trying to roll a few metres up and down the hotel hall.
"The swimming started well, but I think it will be a challenge for me to feel comfortable in open water swims because I'm so used to the pool."
Golden ambitions
Having had their first triathlon experiences this year, Elmlinger and Reppe are eager to continue their journeys in 2019.
Elmlinger's PTS4 classification is not included in the Paralympic programme for Tokyo 2020. But the fact that she is living her childhood dream keeps her competitive.
"My plans for next season are much bigger than I initially hoped after my last three races," Elmlinger said. "While I am in shape, I wasn't in race shape and I anticipate huge gains in this area. "
Reppe's PTWC event is in Tokyo, and the 31-year-old said she is targeting another Paralympics.
"At Rio 2016, being the fastest girl on the road and holding the medal in my hands was a feeling I`ll never forget," Reppe said.
"When I take a look at my medal, I see all the sweat and hard work I invested with my sponsors. That's definitely something worth fighting for over the next two years."