Usain Bolt runs as guide for blind Paralympic champion Guilhermina in Rio
19.04.2015
Six-time Olympic champion from Jamaica trains with Brazil's three-time Paralympic champion ahead of 'Mano a Mano' event.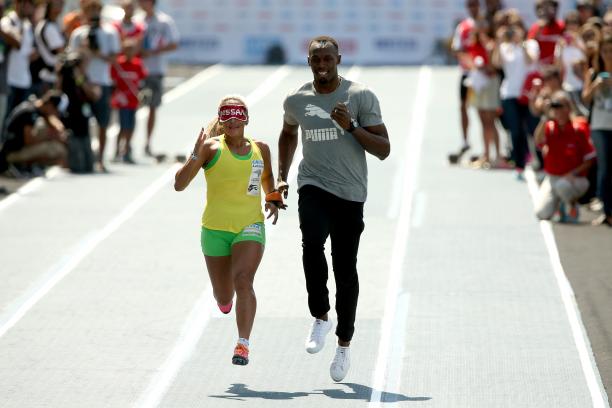 Brazilian Paralympian Terezinha Guilhermina runs with Usain Bolt of Jamaica as her guide during an exhibition in preparation for the Mano a Mano Athletics Challenge at the Jockey Club Brasileiro in Rio de Janeiro, Brazil.
© • Getty Images
By Rio 2016 and NPC Brazil.
Brazil's three-time Paralympic sprinting champion Terezinha Guilhermina unveiled her new guide on Saturday (18 April) in Rio de Janeiro, Brazil, none other than Jamaica's six-time Olympic champion Usain Bolt!
Bolt was in the host city of next year's Olympic and Paralympic Games to promote the Mano a Mano Challenge at the Brazilian Jockey Club and, grinning all the way, joined with Guilhermina to take part in a 50m sprint.
Short videos from the event can be viewed here: video 1 video 2
"It was a dream come true," said Guilhermina, who won 100m and 200m gold at the London 2012 Games and 200m gold at the Beijing 2008 Games. "He was a little uncertain at the start, afraid that I might fall over or that he would run too fast. This shows how much respect events like this bring to Paralympic athletes.
"Running with him [Bolt] is a joy for any athlete. Bolt is a reference in the sport and I'm happy to have participated in this race. I fulfilled a dream."
The third Mano a Mano Challenge will reach its climax on Sunday (19 April) when Bolt will compete in the 100m. Saturday saw the qualification races for the men's and women's 100m. Bolt will race against Brazil's José Carlos Moreira, the Netherlands' Churandy Martina and the USA's Ryan Bailey. The women's race will feature Jamaicans Veronica Campbell-Brown and Kerron Stewart, plus Brazil's Vitória Cristina Silva Rosa and the USA's Carmelita Jeter.
There will also be a Paralympic race, featuring Alan Oliveira, who won 200m gold at London 2012, plus US sprinters Paul Peterson and Richard Browne, and Germany's Felix Streng.
Guilhermina will not be competing on Sunday, but she has plenty on her schedule already. "I have the Parapan American Games (in Toronto in August) and then the World Championships in Doha (in October)," she said. "So it will be a very important year in terms of preparations for the Rio 2016 Games."