USA goalball players aiming for gold at Rio 2016
04.02.2015
The sport's leading superpower has already qualified men's and women's teams for the first Paralympic Games in South America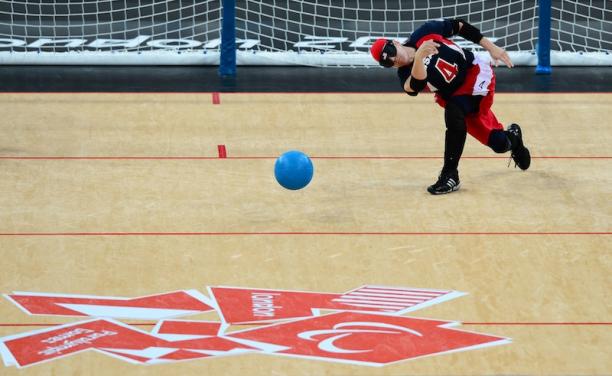 USA's Asya Miller throws during one of her team's games at London 2012.
© • Getty
By Rio 2016
They say the mark of a true champion is the ability to come back from failure. The USA's goalball players will hope this maxim rings true next year when they aim to bounce back after their disappointing performance at the London 2012 Paralympic Games.
While its women team's attempt to defend its Beijing 2008 gold medal ended with a 5-0 quarter-final defeat by China, its men's team did not even qualify for London.
This was all too much for Tyler Merren, who has represented his nation on the goalball court since 2001. "It was crushing for me and when the Games were being played, I could hardly follow them for the sheer disappointment of not being there," he told rio2016.com. "Heading toward the 2012 Paralympics, I believe that we, certainly myself, felt that it was an inevitability that we would qualify. We had several opportunities to make the Games and there were multiple reasons why we did not achieve it."
However, recuperation came quickly as both the men's and women's USA teams secured places at the Rio 2016 Games via the 2014 World Championships. For Jen Armbruster, who helped the women to the world title in Finland, the disappointment of London was instrumental in the team's comeback.
"It was painful at that moment in time and a few of us needed to evaluate where we were going with our careers," said the 40-year-old, who has competed in six Paralympic Games and won three medals. "Four of us were on the gold medal team from 2008 and the silver medal team from 2004. The team used that experience as a learning moment and took in those feelings and emotions.
"We knew that in the next two years we would be focusing on the World Championships and getting the team qualified for Rio. Our team had to overcome a few things on and off the court during the championships, but ultimately we were able to put the US on top."
The US men's team took bronze in Finland to confirm their place at the Rio 2016 Games, where they will hope to add to their Paralympic Games medal tally of one gold, two silver and one bronze. And Merren sounded a warning to their rivals.
"Winning a medal is a matter of honour for us," he said. "We expect to go to Rio and medal, and my personal goal is nothing short of gold. We have given ourselves another chance to show that we can be the best in the world. We are hungry and now each guy on the team knows that we are going for sure, they will be fighting tooth and nail to make the team. We have two years to prepare, and they should be the most focused and intense two years of our careers."
The US women have won two gold, two silver and one bronze medal at Paralympic Games, and Armbruster, who was her country's flag-bearer at the Beijing 2008 Games, has played a crucial part in creating this legacy. As she looks towards what would be her final Games, she hopes to go out on a high.
"If I go to Rio 2016, I want to retire knowing that I left everything on the court," she told rio2016.com. "It would be wonderful to walk away from my athletic career hearing my national anthem one more time, but to be able to share the high and low moments with a group of wonderful ladies, that is what I remember, and can only hope for this in 2016."
Along with the two USA teams, the Finland men's team plus the Russia and Turkey women's teams qualified for the Rio 2016 Games at last year's world championships. As host nation, Brazil has a place guaranteed in both genders, while the other seven men's and six women's teams will earn spots by August 2015.
The Rio 2016 Paralympic Games will take place between 7-18 September 2016.