USA dominate day one in Indianapolis
05.04.2019
World Series hosts claim medals and world record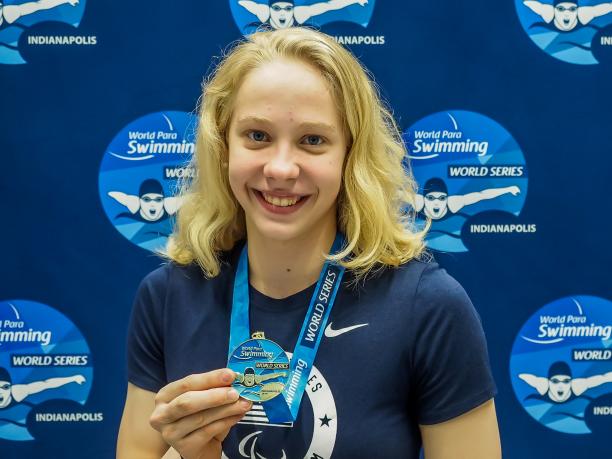 Julia Gaffney took gold and a new world record on day one of the Indianapolis World Series
© • Peter Bick
By Melissa Zhang | For World Para Swimming
Hosts USA got off to a flying start at the 2019 Indianapolis World Para Swimming World Series, which kicked off at the Indiana University Natatorium on Thursday. US swimmers took 10 medals and a world record on a day of freestyle and backstroke races.
The standout star for the hosts was teenager Julia Gaffney, who set a new world record in the women's 100m backstroke S7 with a time of 1:19.47. The 18-year old won gold as USA completed a podium sweep in the multi-class race, with teammates Gia Pergolini and thirteen-time Paralympic champion Jessica Long taking silver and bronze respectively.
"I've been eyeing the 100 back world record since I moved to the Olympic Training Center in January. I wanted to set it here in Indianapolis," Gaffney said.
"We've been working on my pull a lot, which has gotten much better. I saw the time and knew I set the world record. It feels really good to start the meet this way. I feel like I can relax and have fun because I've done what I need to do."
More medals for USA came courtesy of three-time Paralympic champion McKenzie Coan and five-time world championship medalist Natalie Sims, who claimed gold and silver in the women's 100m freestyle. Hungary's two-time Paralympic medalist Bianka Pap earned bronze.
The hosts also won two medals in the women's 200m freestyle; Leslie Cichocki with gold and Mila Greening with bronze. Colombia's Hilary Andrea Coachi Estupinan split the US swimmers on the podium.
The USA again came out on top on the 100m backstroke, as Robert Griswold and Lawrence Sapp won gold and silver. Two-time world champion Simone Barlaam of Italy had to settle for bronze.
In the men's 100m freestyle, seven-time Paralympic champion Andre Brasil of Brazil claimed gold as Mexican swimmers Luis Armando Andrade Guillen and Juan Jose Gutierrez Bermudez took silver and bronze.
Chile's Alberto Abarza of Chile celebrated victory in the men's 200m freestyle, as USA's Jonathan Pierce and Mexico's Gustavo Sanchez Martinez took silver and bronze.
Nearly 160 athletes from 19 countries are competing at the second stop of the 2019 World Series circuit, the third consecutive year that Indianapolis has hosted the event. Competition continues until Saturday with live results available online.