US Paralympics 2014-15 alpine skiing national team nominated
18.07.2014
US Paralympics has announced that 19 athletes have been nominated to the 2014-15 U.S. Paralympics alpine skiing national team.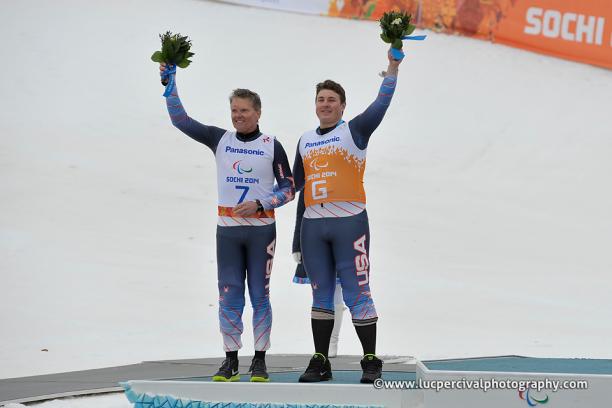 Mark Bathum USA and guide saluting the crowd and their supporters after receiving their medals
© • © Luc Percival Photography
By IPC
"We are thrilled to have so many of our Sochi medallists return to the national team,"
"We are thrilled to have so many of our Sochi medallists return to the national team," said Kevin Jardine, high performance director, US Paralympics alpine skiing and snowboarding. "2015 is going to be a very important year for us to continue to develop some of the up-and-coming athletes and get them to the podium positions at the 2015 IPC Alpine Skiing World Championships."
All 19 of the athletes nominated to the team competed at the Sochi 2014 Paralympic Winter Games, with six athletes winning a combined nine medals.
On the women's side, Laurie Stephens and Stephanie Jallen both won two bronze medals in Sochi. Seventeen-year-old Jallen was the breakout star of the Games as she won two Paralympic medals, was named the Best Female Paralympian and her bronze-medal finish in the super-G was named the Moment of the Paralympic Winter Games at the United States Olympic Committee's inaugural Best of US awards. After an outstanding season that saw Stephens win the women's sitting overall World Cup Speed Globe and finish second overall in the women's sitting world cup standings, she capped her season with two bronze medals and a fourth place finish in Sochi.
Mark Bathum led the medal count on the men's side as he won two silver medals in Sochi and ended the 2013-14 season as the number one ranked visually impaired skier in downhill and-super G.
Other medallists from Sochi include Heath Calhoun, Alana Nichols and Danelle Umstead.
Calhoun, a retired Staff Sergeant in the US Army, is one of three military veterans named to the team. Also named to the team are Chris Devlin-Young, retired Petty Officer Third Class, U.S. Coast Guard, and Jon Lujan, retired Sergeant, US Marine Corps.
The IPC Alpine Skiing World Cup series will begin in January of 2015, with the season concluding at the IPC Alpine Skiing World Championships in Panorama, British Columbia, March 1-11.
2014-2015 U.S. Paralympics Alpine Skiing National Team Nominees
• Lindsay Ball (Benton, Maine)
• Jasmin Bambur (Granby, Colo.)
• Mark Bathum (Seattle, Wash.)
• Heath Calhoun (Clarksville, Tenn.)
• Chris Devlin Young (Campton, N.H.)
• Ralph Green (Brooklyn, N.Y.)
• Stephanie Jallen (Harding, Pa.)
• Andrew Kurka (Palmer, Ark.)
• Stephen Lawler (Burlington, Vt.)
• Jon Lujan (Littleton, Colo.)
• Staci Mannella (Randolph, N.J.)
• Scott Meyer (Frisco, Colo.)
• Alana Nichols (Farmington, N.M.)
• Melanie Schwartz (Aspen, Colo.)
• James Stanton (Rochester Hills, Mich.)
• Laurie Stephens (Wenham, Mass.)
• Danelle Umstead (Park City, Utah)
• Stephani Victor (Park City, Utah)
• Tyler Walker (Franconia, N.H.)