Two Years to Go to Vancouver 2010 Paralympics
13.03.2008
Yesterday, the Vancouver Organizing Committee for the 2010 Olympic and Paralympic Winter Games (VANOC) celebrated the two-year countdown to the Paralympic Winter Games with activities in Vancouver and Whistler.
By IPC
Related Images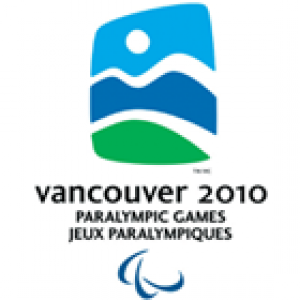 Logo Vancouver 2010
Exactly 730 days before the opening of the Vancouver 2010 Paralympic Winter Games, the VANOC Paralympic Planning Team and Paralympic gold medalist Todd Nicholson (Ice Sledge Hockey) as well as several media representatives joined students and staff of Queen Victoria Annex School for a presentation on the Paralympic Games and sport demonstrations, including Ice Sledge Hockey and Wheelchair Curling. Sumi, Quatchi and Miga, the Vancouver 2010 mascots, also attended the event and showed their support for the Paralympic Games.
For VANOC's Paralympic planners, the two-year countdown marks a shift in momentum. "This is a very exciting day for us," said Dena Coward, VANOC Director of Paralympic Games. "Over the next two years you will start to see some exciting Paralympic announcements, amazing sport events, unique cultural activities and unparalleled community engagement - all leading up to 10 exciting days of the Paralympic Winter Games."
At the same time in Whistler, the 2010 Paralympic Winter Games Countdown Celebration took place at the new Whistler Public Library with the traditional Countdown Cake cutting. The event also included a special performance by singer/songwriter and 2008 Canadian Indie Awards nominee Justin Hines and an appearance by the Vancouver 2010 mascots. Paralympic Cross-Country skier Tyler Mosher and Paralympic Swimmer Donovan Tildesley talked about their anticipation and excitement for Vancouver 2010.
Additionally, the official Vancouver 2010 Paralympic Winter Games Competition Schedule has been released to the media and will now be available to the public at www.vancouver2010.com. A new video featuring the extraordinary athletes of the Paralympic Winter was also presented, inspiring all Canadians, changing perceptions of Paralympic Sport, showcasing the tremendous talent of the athletes and promoting the Vancouver 2010 platform of "small town spirit, big city facilities, world-class exposure."
For further information, please visit the official website at www.vancouver2010.com.