Top six para-sport stories of the week – 9-15 November
15.11.2014
IPC pleased with Rio 2016 progress, wheelchair tennis history made, skiing retirements and more…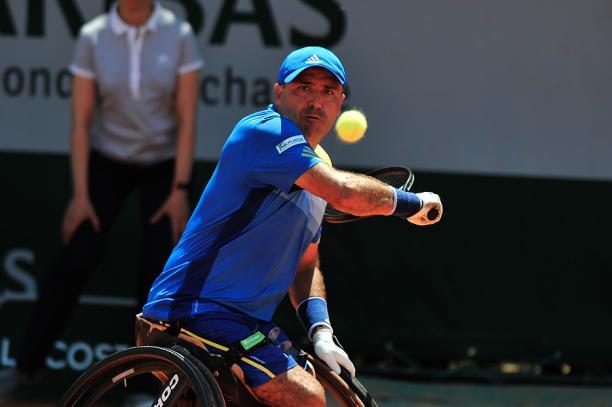 Stephane Houdet at the 2013 French Open. In 2014, he made history, winning his third consecutive title at the UNIQLO Wheelchair Doubles Masters in Mission Veijo, California, USA, along with Belgium's Joachim Gerard
© • Luc Percival
By IPC
The International Paralympic Committee began its top 50 moments countdown on 12 November, publishing one moment each day until 31 December.
It has been another packed week of news across the Paralympic Movement. Here are the top six stories of the week:
IPC Athletics publishes qualification criteria for Doha 2015 worlds
IPC Athletics has announced the qualification criteria for the Doha 2015 IPC Athletics World Championships, which are set to take place between 22-31 October.
Up to 1,400 athletes can compete in Doha 2015 across 210 medal events, including 119 for men and 91 for women.
Countries can enter a maximum of three eligible athletes per individual medal event and the qualification period, which started on 1 January 2014, will continue through to 31 August 2015.
- More on the Doha 2015 qualification criteria
Canada's Josh Dueck announces retirement
Canadian Paralympic champion Josh Dueck has announced his retirement from alpine skiing.
The 33-year-old, who won one gold and a silver medal at the Sochi 2014 Paralympic Winter Games, penned an open letter on his blog stating that he is planning on focusing his energy on his family.
Despite his retirement, Dueck plans to stay involved as an ambassador for para-alpine skiing through coaching, mentoring, and helping to test and develop equipment for upcoming athletes.
- More information on Dueck's retirement
IPC begins top 50 moments countdown
The International Paralympic Committee began its top 50 moments countdown on 12 November, publishing one moment each day until 31 December.
The Top 50 Moments are ranked according to the overall impact they had on the Paralympic Movement in 2014 and are chosen based on sports performance, emotional impact, media attention and athletes' personal stories.
They will include performances from events such as the Sochi 2014 Paralympic Winter Games, as well as happenings which took place away from the field of sport.
- To see the countdown so far, visit the top 50 moments website
Siamand Rahman named Allianz Athlete of the Month
Iranian powerlifter Siamand Rahman has been named the Allianz athlete of the month for October after his performance at the Incheon 2014 Asian Para Games in South Korea.
Rahman received 63.9 per cent of the vote after he broke his own world record three times on his way to the gold medal. In total, he added 7kg to his record, with a final lift of 292.0kg.
- More information on Rahman winning Allianz Athlete of the Month
IPC pleased with Rio 2016 progress
The IPC has stated that it is pleased with the significant progress made by the Rio 2016 Organising Committee, following completion of a sixth IPC project review.
During the two days of meetings on 11-12 November in Rio de Janeiro, the IPC received updates on many functional areas responsible for organising the next Paralympic games.
Xavier Gonzalez, the IPC's Chief Executive Officer, said: "During the sixth Project review we have seen significant progress on all the areas we have reviewed. In particular, we are really satisfied with the more integrated approach taken by the City, the State Government and Rio 2016 on the accessibility programme."
- More information on the Rio 2016 progress.
History made at Wheelchair Doubles Masters
France's Stephane Houdet won a third consecutive title at the 2014 UNIQLO Wheelchair Doubles Masters, becoming the first player to do so.
Along with his partner, Belgium's Joachim Gerard, they beat France's Michael Jeremiasz and Great Britain's Gordon Reid in straight sets.
In the women's competition, Japan's Yui Kamiji and Great Britain's Jordanne Whiley retained their title, whilst the USA's David Wagner and Nick Taylor won an eighth quad Doubles Masters title.