Tokyo 2020: Ottobock named Official Supporter
03.12.2018
Team of 100 experts to assist athletes at next Paralympics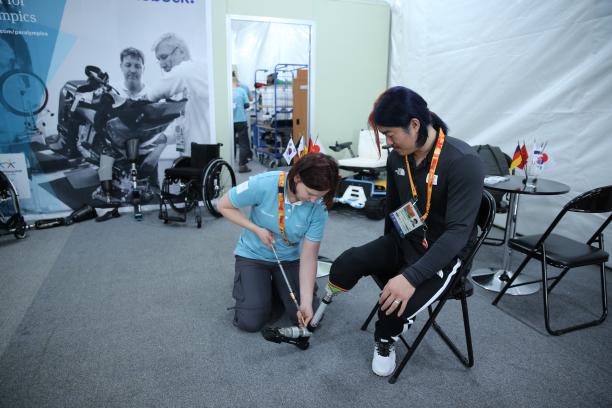 Ottobock in action at the PyeongChang 2018 Paralympic Winter Games
© • Ottobock
By Tokyo 2020 and Ottobock
Thirty years after it supported its first Paralympic Games in Seoul, South Korea, Ottobock has been confirmed as an Official Supporter of the Tokyo 2020 Paralympics in an announcement made to coincide with the United Nations (UN) International Day of Persons with Disabilities 2018.
At Tokyo 2020, Ottobock will be providing its technical service to all athletes for the sixteenth time. Both sports and everyday devices will be repaired. This allows athletes to concentrate fully on their competitions, getting the most out of their performances. An international team of experienced O&P professionals, wheelchair specialists and welders will provide free support to all the athletes, regardless of their nationality or existing device.
During the Games, which take place between August 25 and September 6 2020, a 100-strong team of Ottobock technical experts will carry out an estimated 2,000 repairs, utilising 18 metric tonnes of equipment and machinery, as well as 15,000 spare parts.
"There couldn't have been a better day than the UN International Day of Persons with Disabilities to conclude the contract," said Professor Hans Georg Nader, President Chairman of the Board of Ottobock.
The International Day of Persons with Disabilities aims to increase public awareness of the issues faced by people with disabilities and further advance the dignity, rights and well-being of these individuals – which are goals that Ottobock has continuously pursued for the last 30 years through its involvement in the Paralympic Games.
At the Seoul 1988 Paralympic Games 30 years ago, four Ottobock technicians from Australia provided technical service to the athletes for the very first time – at that time working in a small workshop tent.
Professor Nader was impressed by their commitment. He realised the great demand for technical assistance and enhanced the professionalism of this service with every Paralympic Games. "Passion for Paralympics" has now become part of the Ottobock's DNA.
"Our commitment started in Seoul in 1988, and we proudly celebrated our 30th anniversary this year in PyeongChang. Ottobock has a long history in Asia, with a strong commitment to its people and the growth of the region.
"In 1999, we introduced prosthetic and orthotic care and have pioneered its development ever since. Becoming a partner of the Tokyo 2020 Paralympic Games is a natural progression of our commitment to both the region and Paralympic sport.
"I am looking forward to Games with a passion that will be felt not only in Japan but by audiences worldwide," said Professor Nader.