Tokyo 2020: Meet the Game Changers
14.04.2019
Dutch duo Beijer and Kramer working on Paralympics legacy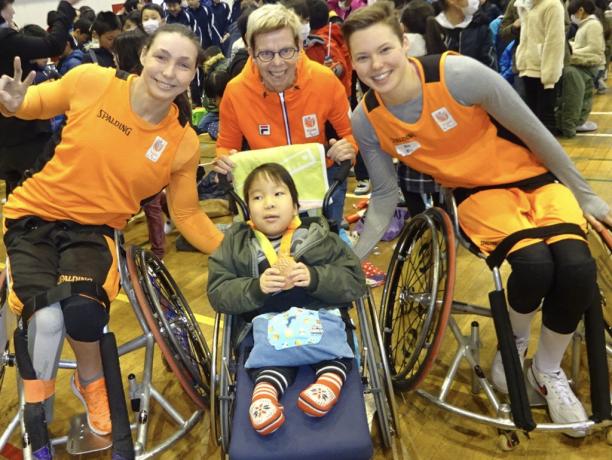 World champions Mariksa Beijer (left) and Bo Kramer, with IPC Governing Board member Rita van Driel are helping build the Tokyo 2020 legacy
© • Rita van Driel
By IPC
Wheelchair basketball players Mariska Beijer and Bo Kramer are targeting a historic gold medal at the Tokyo 2020 Paralympic Games. But the Dutch stars also have another project, one that goes beyond Tokyo 2020.
More specifically, the "Game Changer Project."
It is the Netherlands Paralympic and Olympic Committee's (NOC*NSF) way of leaving a legacy through Tokyo 2020.
"People with an impairment don't know how fun it is to play wheelchair basketball or play a Paralympic sport. Once they experience it, they see how fun it is."
The focus, however, is not for their own country, but for the Paralympic hosts.
The NOC*NSF organised a project for scholars from the favelas in Rio de Janeiro, Brazil, where the 2016 Paralympics were held. Its success encouraged them to continue the project for the 2020 Olympic and Paralympic Games.
Dutch world champions Beijer and Kramer travelled to Japan in February to assist with the project.
The event went beyond their expectations.
"In the evenings I would have a stomach ache because we were laughing so much with the kids," Beijer recalled.
They visited schools to demonstrate wheelchair basketball – Beijer and Kramer playing one-on-one – and helped with Para sports workshops.
"In Japan, they treated us like we were heroes, which was really cool," Kramer said.
"They were really excited to try the sports. They were a bit shy though but once they figured it out and enjoyed it, they started laughing and challenging each other. So what I kept the most was the fun we had together. We had so much fun with the kids."
NOC*NSF initiated meetings with Japanese sports organisations, government bodies and educational institutions.
Through the discussions, they realised the brevity of the challenges individuals with an impairment face in Japan. While access to buildings, public transportation or sports facilities are sufficiently, the integration of people with disabilities could be improved.
"In the Netherlands, people with an impairment go out in the street and participate in daily activities," Kramer said. "In Japan, they are used to staying at home and won't participate in daily activities. They were kept away from people without a disability. That is the biggest difference in Japan and Netherlands. Not many know about people with an impairment in Japan."
"People with an impairment don't know how fun it is to play wheelchair basketball or play a Paralympic sport. Once they experience it, they see how fun it is."
Beijer said the Dutch government and laws play a huge role in integrating people with an impairment, and that was one of the points the athletes tried to get across during their meetings with decision makers.
"There are people with a disability in Japan and there are people who really want to work with them but they just don't know how to set it up and how to build a team and work together better," Kramer said. "So there were three words: think, try and talk."
Beijer added: "Communication, communication, communication — communication."
That is what makes the Netherlands strong in Paralympic sport.
And while there are still ways to improve accessibility, they know how sport empowers individuals.
"We were sitting down with managers and important people of the government and their employees and volunteers," she continued. "I think that was the biggest takeaway was you need to talk to every single layer of an organisation to get stuff done."
At least once a year, Dutch experts will share their knowledge and experience, and Dutch Paralympic and Olympic athletes will travel to Tokyo to inspire and motivate people with an impairment, as well as their families, teachers, coaches and more through their personal stories.
"The fact that everywhere we went and we left, there were people smiling," Kramer said.
"The fact that people were smiling is the most important thing. We saw how they reacted when we brought out Paralympic bronze medal to the children, and all the children were excited about us being there," the wheelchair basketball player added.