Tensions high for Russia-USA gold-medal game
15.03.2014
The ice sledge hockey final is expected to be one of the biggest draws of the Sochi 2014 Paralympics.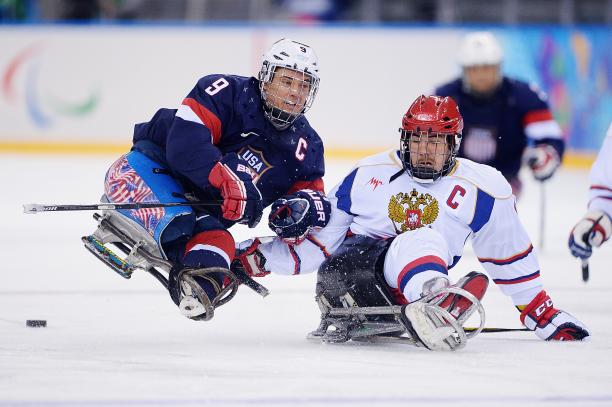 USA captain Andy Yohe and Russia captain Dmitry Lisov challenge each other for the puck during their preliminary round game at Sochi 2014. Russia won the game, 2-1.
© • Getty Images
By Ryan McKenna | For the IPC
"After the first game we thought, 'How can we lose?' Everyone is supporting us, everyone loves us so. And we lost. About 50 per cent of our success we owe to the fans."
The biggest prize in ice sledge hockey will be up for grabs on Saturday (15 March) when the USA and Russia face off in the gold-medal game at 20:00 (MSK) at the Sochi 2014 Paralympic Winter Games.
The USA are the defending Paralympic champions from Vancouver 2010, and are looking to be the first-ever country to make it two straight gold medals.
The game will be even sweeter for the Americans, as NBC just announced they will be airing the final on their main channel, making it the first time ever a Paralympic sporting event is broadcast live on NBC in the USA, and ice sledge hockey has the potential to reach millions of new viewers.
After a 3-0 win over No. 1 Canada in Thursday's (13 March) semi-final, the USA will have a tough task on their hands when they play the host nation, Russia. The last time the two teams met was in the preliminary round when Russia defeated the USA, 2-1, to finish in first place in Group B.
Russia have been a pleasant surprise at Sochi 2014, especially with it being their first Paralympic Winter Games in the sport.
After an opening day loss to South Korea in a shoot-out, Russia have bounced back to win three straight games, including their Day 6 semi-final win over Norway.
A large thanks to their success has been the amazing crowd at Shayba Arena, which has been packed for every game.
Russian captain Dmitry Lisov said having the crowd behind them makes a big difference.
"It is the support from the fans and relatives who call us forward and demand results," Lisov said. "After the first game we thought, 'How can we lose?' Everyone is supporting us, everyone loves us so. And we lost. About 50 per cent of our success we owe to the fans."
Russia have received a well-balanced offence with three players in the top-10 for scoring in the tournament. Evgeny Petrov is tied for first in scoring with six points while Vasilli Varlakov has five points and a plus/minus rating of plus 10.
The USA have been led by 16-year-old Declan Farmer, who scored twice against Canada in the semi-final and is tied with Nikko Landeros for the team lead in points with five.
Their strong defensive play throughout the entire tournament is in large part thanks to goaltender Steve Cash who is carrying a 94.87 save percentage into the final.
"We're not looking back on the past and what's happened before," Cash said.
"I'm sure everybody at home is thinking about that miracle (USA's ice hockey final against Russia at the Lake Placid 1980 Olympic Winter Games), but in our heads it's more about going out there and executing," Cash said. "It's going to be a big game; it's going to be tough, and we're not as focused on the concept of that game as we are on getting a gold medal."
Not to be outdone is Russian goaltender Vladimir Kamantcev who, like Cash, is coming off a shutout in the semi-finals and leads all goaltenders with a 97.37 save percentage.
Earlier in the day, at 13:00 (MSK), Norway will face Canada in the bronze-medal game – a rematch of the Vancouver 2010 third-place match when Norway defeated Canada, 2-1.
Norway have not been left off the podium in ice sledge hockey since the sport started in the Paralympic Winter Games at Lillehammer 1994.
Canada avenged their Vancouver 2010 loss during the preliminary round in Sochi when they defeated Norway 4-0 on the strength of defenceman Adam Dixon's two goals, while Dominic Larocque had a goal and an assist.
With the loss in the semi-finals, Canadian captain Greg Westlake admits his team will not be competing for the medal that they originally hoped for, but that they still want to finish on a positive note.
"It's a tough game to get up for, especially as Canadians, just because it's not the game we want to be in," Westlake said. "But we have enough players that were on the team in Vancouver that didn't win a bronze medal. It doesn't stay with you because the medal that hurts to lose is the gold, but I wish I had a momento from Vancouver.
"We owe it to the people back home and to everybody here to get that (win bronze medal) done."
Norway defenceman Rolf Pedersen could be playing in the final ice sledge hockey game of his career. The 44-year-old veteran offensive defenceman has been a staple on the blue line in the sport and has been a part of the team's last three Paralympic medals.