Teenage Talents: Noelle Lenihan
04.09.2017
Irish thrower looking forward to Tokyo 2020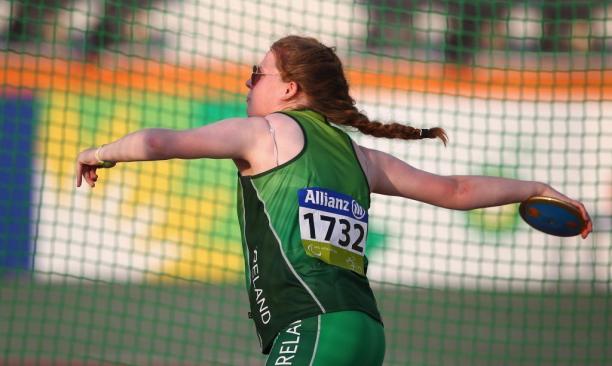 Noelle Lenihan is a double world silver medallist
© • Getty Images
By IPC
Family means everything to 17-year-old discus thrower Noelle Lenihan.
The Irish teenager won silver at the World Para Athletics Championships in London in July – adding to the silvers she won at Rio 2016 and at the Doha World Championship in 2015 – and will undoubtedly be a key contender when it comes to the Tokyo Games in 2020.
Lenihan credits her siblings – she has five sisters and one brother - as well as her parents for her Para athletics success.
"Rio was kind of like a trial run – my first Games, so everything was new. At least by Tokyo I will have more experience under my belt and I can tackle it with more knowledge."
"I come from a massive sporting family and everyone growing up did some sort of sport, whether it was camogie (an Irish women's stick and ball game) or athletics or something," explains Lenihan, who has cerebral palsy and competes in the F38 class.
"I've got an elder sister Siobhan who was a cross-country runner and middle-distance runner and won a scholarship to Arkansas Tech University in the USA, worked hard at it and got the results. I've got brothers and sisters that have played to county level in camogie – they are all just mad sporting people and it's brilliant for me – it gives me the drive and determination.
"They all contribute to what drives me on and I look up to them even though they are family. They show that if you work hard enough you can do whatever you want."
As for competing at the next Paralympic Games in three years' time, Lenihan is already looking forward to the opportunity.
"That would be amazing. Rio was kind of like a trial run – my first Games, so everything was new. At least by Tokyo I will have more experience under my belt and I can tackle it with more knowledge."
Like her sister, Lenihan began running at an early age; she joined her local club in Cork at just seven-years-old. Throwing was to follow later, in large part thanks to her Dad, Jim.
"Cross-county running came first, I started out running but of course it wasn't for me. My Dad thought there was nothing for me to do there, so he took up throws coaching just for me. That's where it all started.
"From the very first competition I just felt like I was a very competitive person and I just loved it. I loved the idea of trying to better myself and I just really took to it."
Lenihan, who won all-Ireland medals at able-bodied events in her early teens, made her Para athletics debut at the Berlin Grand Prix in Germany in 2015, before heading to the World Championships in Doha, Qatar, just a few months later.
Record breaker
That first massive step on to the global stage immediately shone a spotlight on the young Para athlete who broke a nine-year-old world record to claim silver behind China's experienced F37 thrower Mi Na.
"That was amazing," reflects Lenihan. "It was a totally new experience for me and I was just going out to see how I would get on under those conditions.
"I just remember not realising how big it was until I got home and it was crazy really. It kind of just exploded after that."
After Doha came the 2016 European Championships in Grosseto, Italy, where Lenihan added a further 50cm on to her previous best, registering a new world record of 32.14m to claim her first major title.
Then followed Rio 2016, and another podium finish for the Cork schoolgirl, who returned home to a hero's welcome – as well as her final year of secondary school.
She explained: "It was crazy, the day I went back in to school they all did a guard of honour from the school gates. They had a piper in front of me and they had a massive assembly. That showed how much it meant to everyone and it meant an awful lot to me to get that welcome from my school.
"But I had to get straight back in to my books because I'd missed about three weeks of school. It was flat out from there to Christmas, then it was prelim time. But I was able to managed the two. I was delighted with my exams given how busy I was with my throwing."
Up to now Lenihan has enjoyed a fruitful and winning relationship with her Dad as coach, but all that is about to change as university beckons this year. Lenihan has earned a sports scholarship to Maynooth University, 25 kilometres from Dublin, which means a move away from home.
"I think I will have to find a new coach which is quite sad as it's quite far up the country," she admits. "But I'll definitely come down at weekends and in the summer so he can see enough of me then!"