Technical course enhances powerlifting in Africa
31.01.2019
After training camp, eight athletes supported by the Agitos Foundation won medals in Lagos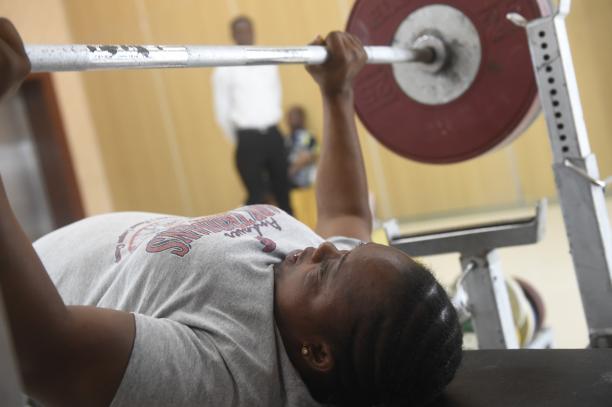 Athletes from six countries were supported by the Agitos Foundation to train and compete in Lagos
© • Pius Ekpei/Agitos Foundation
By Agitos Foundation
The Para powerlifting season kicked off in Nigeria – and the Agitos Foundation has also started 2019 supporting athletes, coaches and technical officials from seven African nations.
From 25-27 January, ahead of the Lagos 2019 International Para Powerlifting Competition, 30 athletes and 11 coaches from the Central African Republic, Cameron, Ghana, Guinea, Ivory Coast and Tanzania took part in a sport technical course held by World Para Powerlifting and the Agitos Foundation, through the NPC Development Programme.
Launched in early 2017 by the Agitos Foundation, the NPC Development Programme has been made possible by the worldwide partnership agreement between the International Paralympic Committee (IPC) and Toyota.
During the three-day training camp, athletes attended Proud Paralympian sessions in the mornings, during which they learned about the Paralympic Movement, ethics and fair play, athlete health and wellbeing and working with the media, while their coaches could improve their knowledge about the sport in lessons with educators. In the afternoons, athletes and coaches had training sessions to develop their techniques.
Proud Paralympian leader Jean Baptiste Murema, former sitting-volleyball player from Rwanda, said: "It was a good workshop, with many different countries and different challenges. But the participants really engaged in the workshop and shared their experiences.
"The subjects of Proud Paralympian are very important, as they have an impact on the athletes. I think it is the first time for some of them to learn about the UN Convention on the Rights of Persons with Disabilities, working with the media and transferable skills. It helps athletes in their sporting career."
After the workshop the athletes competed in the international tournament, held in Lagos from 28-30 January. Eight athletes from Cameroon (3), Ivory Coast (3) and Ghana (2) won bronze medals, in a competition dominated by athletes from the host country. Their participation was also funded by the Agitos Foundation through its Athlete Support Programme.
Ghanaian Tahiru Haruna, bronze in the Men's Over 107 kg, said: "The workshop has taught me a lot of things, like the rights for people with a disability. As an athlete, you should learn how to believe in yourself. You should believe that you could do anything, and do it with all your heart."
In addition to the training camp, World Para Powerlifting ran a technical officials course for 15 participants from Nigeria, also supported by the Agitos Foundation.
Course educator Jenny Ortiz Cardenas, from Colombia, said: "It was fantastic to deliver the course in Lagos to a group of amazing, kind, committed, enthusiastic, and passionate participants. They are driven to support the growth of Para Powerlifting in Nigeria, and increasing their opportunities for para sport, engaged to support Para powerlifting athletes, coaches and competitions throughout the country.
"They had a happy attitude all the time. They had fun during course. I hope they can keep on para sport development, with competitions and courses in the near future in order to improve their performance in the country and the region."