Swimming: 12 Facts for London 2012
25.08.2012
Here's a list of 12 interesting things you should know about Swimming at the London 2012 Paralympic Games.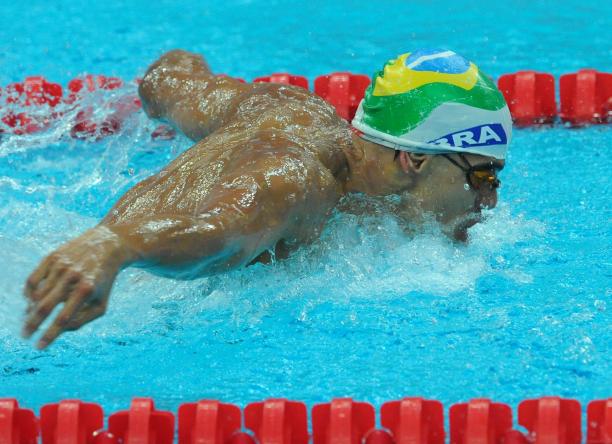 Andre Brasil storms go gold in the 100m Butterfly S10 at Beijing 2008.
© • Getty Images
By IPC
Swimming, which dates back to ancient Egyptian and Greek times, has been a part of every Paralympic Games since the Rome 1960 Games.
1. Who, what, when?
As the second largest sport at the London 2012 Paralympic Games, there will be 609 athletes from 75 National Paralympic Committees competing in 148 medal events from 30 August – 8 September.
2. Where?
The Swimming competition will take place at the Aquatics Centre inside the Olympic Park, which holds a capacity of 17,500 and has a wave-like roof that is 160m long and up to 80m wide – giving it a longer single span than Heathrow Terminal 5. After the Games, the venue will be transformed into a facility for the local community, clubs and schools, as well as elite swimmers.
3. History
Swimming, which dates back to ancient Egyptian and Greek times, has been a part of every Paralympic Games since the Rome 1960 Games.
4. Classification
Athletes are classified according to how their impairment affects their ability to perform each stroke. Classes 1-10 are for athletes with a physical impairment, with Class 1 swimmers having an impairment with the greatest impact on their ability to perform strokes. Classes 11-13 are for swimmers with a visual impairment, with Class 13 swimmers having the most sight. Class 14 is for athletes with an intellectual impairment.
5. Goggles
Visually impaired swimmers wear blackened goggles to ensure fair competition. They each have someone acting as a "tapper," who uses a pole to tap the swimmer when they approach the wall, indicating when they should turn or end the race.
6. Field of play
The swimming pool is 50m long, 25m wide and 3m deep, with eight lanes used for competition.
7. Competition format
Races begin with heats, and swimmers are seeded in advance to see which heats they will compete in. The higher the seeding, the closer to the centre lane of the pool the athlete will race.
8. Aided starts
In events other than the backstroke, swimmers start with a dive from the starting podium. Aided starts are allowed in Paralympic competition, such as from standing beside the podium, from a sitting position, in the water or having assistance with balance on the podium. In no cases may this allow an unfair advantage.
9. Beijing 2008
At the Beijing 2008 Games, USA topped the Swimming medal charts with 17 golds, followed by China and Ukraine, who won 13 golds apiece. Stars of the show included USA's Erin Popovich and China's Xiaofu Wang.
10. Ones to watch
At London 2012, be sure to keep your eyes on the following swimmers: Yevheniy Bohodayko (Ukraine), Maksym Veraksa (Ukraine), Andre Brasil (Brazil), Daniel Dias (Brazil), Matthew Cowdrey (Australia), Sarai Gascon (Spain), Teresa Perales (Spain), Mihovil Spanja (Croatia), Ollie Hynd (Great Britain), Sam Hynd (Great Britain), Ellie Simmonds (Great Britain), Elodie Lorandi (France), David Smetanine (France), Sarah Louise Rung (Norway), Oxana Savchenko (Russia), Olesya Vladykina (Russia), Natalie du Toit (South Africa), Qing Xu (China).
11. Not just the Paralympics
In addition to the Paralympics, there are IPC Swimming World Championships held every two years, in addition to regional championships around the globe.
12. Governing body
The governing body of the sport is IPC Swimming, which is a branch within the International Paralympic Committee at its headquarters in Bonn, Germany.