Swimmers to watch with 50 days until Eindhoven 2014
17.06.2014
A total of 22 swimmers with 98 Paralympic and 123 world gold medals have been listed ahead of the 2014 swimming Euros and other major competitions.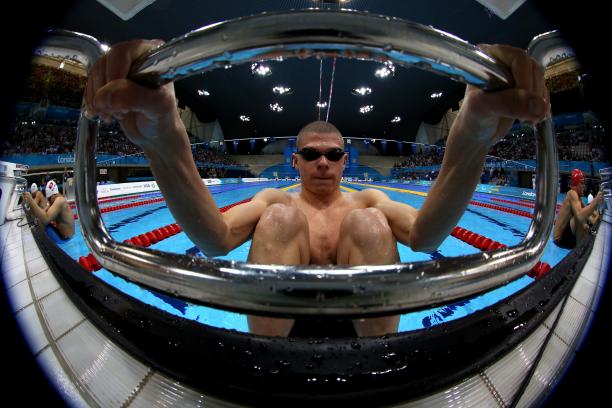 The Netherlands' Marc Evers prepares for the start of the men's 100m backstorke S14 heats at the London 2012 Paralympic Games.
© • Getty Images
By IPC
Starring for the host nation of the Euros in Eindhoven, Marc Evers now gets recognised in supermarkets after winning gold at London 2012 and a hat-trick of wins at Montreal 2013.
With 50 days to go until August's 2014 IPC Swimming European Championships, IPC Swimming has revealed a list of 22 athletes to watch out for over the next 12 months, and it includes 10 of Europe's best swimmers
The complete list hold a total of 98 Paralympic and 123 world individual golds between them, and are also likely to compete at October's Incheon 2014 Asian Para Games, the Toronto 2015 Parapan American Games and the Glasgow 2015 IPC Swimming World Championships.
Europe
Starring for the host nation of the Euros in Eindhoven, Marc Evers now gets recognised in supermarkets after winning gold at London 2012 and a hat-trick of wins at Montreal 2013.
Sarah Louise Rung (NOR), 24, S5
The double Paralympic champion has claimed that she can go faster than ever before in 2014, a claim backed-up by her setting a number of world records in the first few months of the year.
Boki's impressive Paralympic debut at London 2012 saw him take five gold medals which he equalled with the same number of world titles at the 2013 IPC Swimming World Championships in Montreal, Canada.
Eleanor Simmonds (GBR), 19, S6
Simmonds became the face of London 2012 after winning an emotional two gold medals at her home Games. In 2013 the teenager collected three world titles.
Following the retirement of his brother Sam, Oliver will be flying the flag for team Hynd. Already a Paralympic and double world champion, there is no doubt that his proud mother Helen will be cheering him on.
Oleysa Vladykina (RUS), 26, S8
After lighting the Sochi 2014 Paralympic flame, Vladykina has gained further fame and notoriety as one of Russia's most prolific Paralympians. With a total of four Games and seven worlds podiums, Vladykina enters Eindhoven 2014 as one of the athletes to beat.
Darya Stukalova (RUS), 19, S12
The daughter of two swimming coaches, it is no wonder that at her first World Championships in 2013, the young Voronezh native took five gold medals to add to her four podiums from London 2012.
Dmytro Vynohradets (UKR), 29, S3
Currently holds three world records and won the most golds - six - out of the entire medals-table topping Ukrainian team at Montreal 2013.
Olga Sviderska (UKR), 24, S3
Targeting a gold medal at the Rio 2016 Paralympic Games, Sviderska put herself firmly on the map in 2013 by winning five individual world titles.
Darko Duric (SLO), 24, S4
Nicknamed 'dare', Duric finally broke through onto the worlds podium, not once but three times, at the World Championships in Montreal and is now back in Europe to follow up on his strong performance from the 2011 Euros.
Americas
Triple ESPY winner Long won the first of her 12 Paralympic gold medals at just 12 years old. In the 10 years since, she has gone on to win 15 world titles and has become almost unstoppable.
Dias is already one of the greatest Brazilian sportsmen after winning 10 Paralympic and 14 world titles. The double Laureas Award winner will surely cement that status at his home Games in 2016.
Now with an incredible 12 World Championship gold medals and seven Paralympic titles stretching back to 2006, Brasil's profile has been steadily growing in his country ahead of Rio 2016.
Huot can claim the title of one of the most successful Canadian Paralympians, after a lengthy career which has seen him win eight Paralympic golds since his first Games at Sydney 2000.
Named as Maryland's top ranked recruit by CollegeSwimming.com, Paralympic and world champion Silverman rounds off the trio of S10 swimmers who will battle it out at Toronto 2015 and Glasgow 2015.
Double Paralympic champion Sanchez has set 29 regional records since 2009 and is the reigning 200m freestyle world champion.
Asia
Xu believes that the fish-shaped tattoo on his shoulder makes him swim faster and the six-time Paralympic champion might well be right, proving his form with a further three medals at Montreal 2013 ahead of Incheon 2014.
One of Xu's closest competitors, Tao made his debut at the last Asian Para Games in Guangzhou, going on to win one gold medal at London 2012 and two world titles in 2013.
Oceania
Cowdrey became the most successful Australian Paralympian when he captured eight more medals at London 2012, taking his overall tally to 23 medals including 13 gold.
Jacqueline Freney, (AUS), 22, S7
Freney's remarkable performances at London 2012 entered her into the record books when eight gold medals from eight events placed her as the most successful athlete at the Games and the most successful athlete at a single Games ever.
Mary Fisher (NZL), 21, S11
Fisher's five gold medals at Montreal 2013 alongside teammate Sophie Pascoe helped New Zealand to fourth place in the medals table, to follow on from her four medals at London 2012.
Pascoe completed a clean sweep at Montreal 2013, winning a gold medal in every single one of the five events she entered, and has six Paralympic golds to her name from the last two Games.
Tickets and media accreditation for Eindhoven 2014 are now available.