Sweden, South Korea and Italy qualify for Sochi 2014
26.10.2013
All three teams ensured a top-three finish at the IPC Ice Sledge Hockey Qualification Tournament.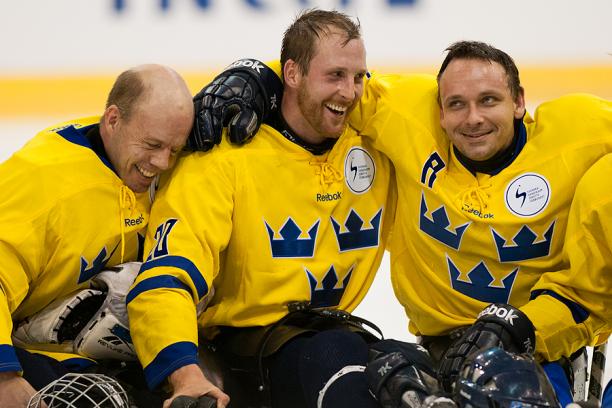 Sweden's player rejoice in the middle of the ice after a victory at the IPC Ice Sledge Hockey Qualification Tournament.
© • Luc Percival
By IPC
"The overtime loss meant everything to me, as Sochi will be my first Paralympics. Everybody on this team has been working so hard for this."
Sweden, South Korea and Italy all officially advanced to the Sochi 2014 Paralympic Winter Games on Friday (25 October) by securing top-three finishes at the IPC Ice Sledge Hockey Qualification Tournament in Torino, Italy.
South Korea remain the only undefeated team in the tournament with 12 points after four days of play, and Italy in second with 11, but it was the Swedish underdog story that stole the hearts of ice sledge hockey fans around the world.
After finishing in a disappointing last place at the World Championships A-Pool in April, Sweden earned the one extra point they needed in their 3-2 overtime loss to Italy in Friday's final game to get to seven points and qualify for Sochi and keep their streak of attending every Paralympics alive.
Niklas Ingvarsson put the first point on the board, scoring off a pass from Per Kasperi just 2:28 into the second period. Italy's Werner Winkler responded with a power-play goal two minutes later, and then Florian Planker added another one for Italy at the 10:16 mark on a nice pass play that included Valerio Corvino and Gianluigi Rosa.
Kasperi evened the score at two goals apiece toward the end of the period, and that score would hold until the end of regulation.
Although the game wasn't over yet, Sweden celebrated following the third period, as they knew they would automatically receive at least one more point in the standings with an overtime period, during which Planker netted the puck to give Italy the victory and two points.
"The overtime loss meant everything to me, as Sochi will be my first Paralympics," said Swedish team captain Peter Ojala. "Everybody on this team has been working so hard for this.
"We're a better prepared team now than we were at the World Championships, especially physically, as we've had an intensive training programme over the last few months."
Earlier in the day, South Korea dominated Great Britain, 10-2, as sledge speed king Seung-Hwan Jung scored four goals and Sang-Hyeong Park netted a hat trick.
Jong-Kyung Lee also scored on power play, and South Korea received additional goals from Byeong-Seok Cho and Min-Su Han to give them 10 scores.
But it was forward Young-Sung Kim – with four shots on goal – who was named Player of the Game for qualifying for his first Paralympics.
"I joined the ice sledge hockey team right after Vancouver 2010, so I've been waiting four years for this," Kim said.
"I feel like we are so blessed now because we get to go to Sochi. But I'm now more nervous now than before the game, because I'm now going to my first Paralympics and I need to prepare for the biggest competition of my life."
Meanwhile, Karl Nicholson and Gary Famer scored Great Britain's two goals in the second period of the game.
British goaltender Bryan Hackworth made 23 saves for his team, which have yet to record any points in the tournament standings.
Germany defeated Japan, 3-2, in a thriller that came down to the final seconds, but it was too little too late, as they can no longer qualify for Sochi 2014.
After a scoreless first period in their game, it was Wedde who found the net for Germany at the 3:27 mark in the second period to give them the early advantage.
Four minutes later, Japan's Satoru Sudo scored, but then Wedde countered that goal with another of his own 31 seconds later to make it 2-1 in Germany's favour.
In the third period, Japan's Kazuhiro Takahashi tied it up at two goals apiece with nearly two minutes left.
Then, with fans on the edge of their seat for the remaining time of play, Robert Pabst slapped the puck into the net with just seven seconds to go in the game to give Germany their first win in Torino.
"We had big pressure on us, so we told ourselves to go out and win the game, as it's all we could do," Wedde said.
"It wasn't anything major we did today, we just took little steps forward in everything we did. After we made that first goal to get in front we got our momentum back, which took off a lot of the pressure."
Germany and Japan both now have three points in the tournament standings, and even with a win on the final day will not have enough points to advance.
The tournament will conclude on Saturday (26 October), with Germany playing Great Britain at 10:00 local time, followed by Sweden against Japan at 13:30 and Italy against Korea at 17:00.
Teams in the tournament earn three points for a win, two for an overtime or shoot-out win, one for an overtime or shoot-out loss and no points for a loss.
The top three finishers from the tournament will qualify for the Sochi 2014 Paralympic Winter Games, where they will join Canada, USA, Russia, Czech Republic and Norway.
For more information on the IPC Ice Sledge Hockey Qualification Tournament, please visit the event website.
All games will be streamed live on the event website, and you can also follow the action on Facebook and on Twitter.