Strong basks in Paralympic glory
05.06.2014
Since returning from Sochi 2014, American Paralympic snowboard champion Evan Strong has been caught up in a whirl of media interviews, the first ever 'Evan Strong' day and meeting President Barack Obama.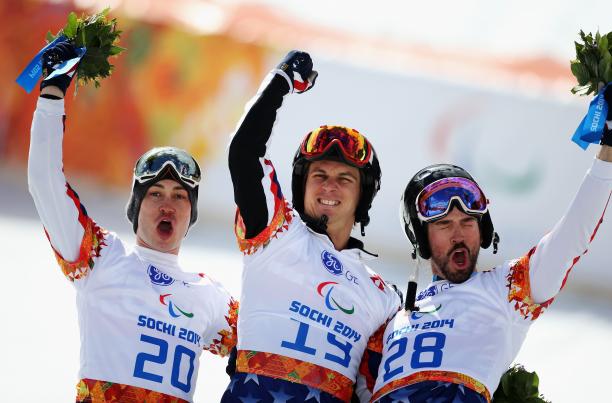 The USA's Mike Shea, left, Evan Strong, centre, and Keith Gabel, celebrate their snowboard medals at Sochi 2014.
© • Getty Images
By Diane Hendrickson | For the IPC
"It was so surreal, one of the highest highs I've experienced in my whole career"
Sochi 2014 Paralympic champion Evan Strong has taken some time-out after winning the first ever para-snowboard title to speak to Paralympic.org about his new found fame.
After a manic two months since the Sochi 2014 Paralympic Winter Games and an equally-busy year, Strong is taking an "out-breath," relaxing and savouring his gold - part of an American sweep of the men's snowboard cross medals in the sport's debut at a Winter Games.
"It was so surreal, one of the highest highs I've experienced in my whole career," he said. "It was an ecstatic time because I got to get that sweep with my two good friends and teammates [Mike Shea and Keith Gabel], so it wasn't just a celebration of my accomplishments, but it was also a team accomplishment and celebration."
Strong returned home to a media blitz in New York City where he spent three days telling his story to different media outlets. Strong also got the chance to reunite with his teammates at the White House where they met President Barack Obama and First Lady Michelle Obama.
"The really cool thing is the President and First Lady gave us a speech and acknowledged what we did and the importance and the role that we played for our country," the 27-year-old said. "All of us, after the Games, coming back together, it really solidified the experience."
His hometown of Nevada City, California, welcomed Strong home with a televised parade and the key to the city. They also declared 1 April to be 'Evan Strong Day' in Nevada City.
Frequently, parents in the small town come up to Strong to tell him how he has inspired their children.
"Mothers and fathers approach me and thank me for sharing my story and tell me stories of how their kids play Evan Strong make-believe with their friends – 'I get to be Evan Strong!' They play like they're snowboarders. Some of them wrap a black sheet around their leg and pretend like they have a prosthetic leg.
"It's cool that somebody would look up to someone with a prosthetic leg… It's cool to see the next generation's belief systems and that past stigmas have changed and been flipped upside down."
American cereal brand Wheaties also took notice, putting Strong on one of their iconic boxes, the first Paralympian to appear in the cereal aisle among other sporting greats such as Michael Jordan, swimmer Michael Phelps and able-bodied snowboarder Shaun White.
"It's really cool to see all this energy and exposure for para-athletes. We have a great story and we're elite athletes. It's cool we get to share our story and our passion and our talents with a worldwide audience."
In April, Strong hit the slopes for one final time this season at Copper Mountain, Colorado, at the national championships, which he won for the second-consecutive year, and now feels compelled to test his potential against able-bodied athletes once again as he did when he first started boarding:
"A goal of mine is to see how far a disabled individual can take boardercross into able-bodied racing," he continued, "I would like to be the first Winter Paralympian to be a Winter Olympian"
"I feel like the same old Evan that keeps doing what Evan does," said Strong, who can temporarily devote some time to his other interests, like mountain biking. "In a lot of ways I don't feel like much has changed."
"I'm still digesting the whole experience," he continued. "It's much bigger than myself. I'm just along for the ride."