Sport Week: Introduction to wheelchair rugby
06.06.2016
Wheelchair rugby combines elements of rugby, basketball and handball.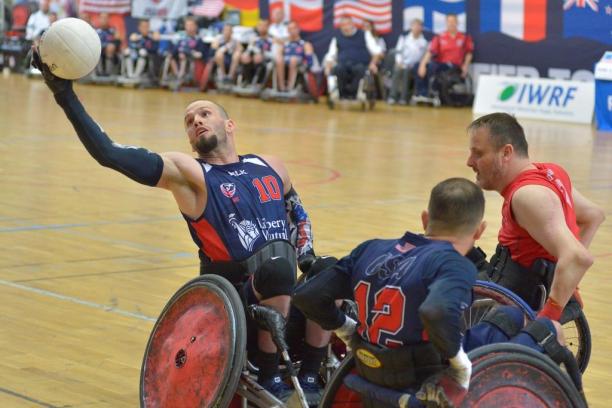 The USA secured a spot in the Rio 2016 Paralympic Games after winning their semi-final over Denmark.
© • Luc Percival
By Beau Greenway | For the IPC
This September in Rio de Janeiro, Brazil, wheelchair rugby will make its sixth appearance in a Paralympics Games after being introduced as a demonstration sport at Atlanta 1996.
Wheelchair rugby is a mixed-team sport for male and female quadriplegic athletes.
Originating from Winnipeg, Canada, the sport was created by athletes with an impairment and combines elements of rugby, basketball and handball:
• Two teams of four in purpose-built wheelchairs try to carry the ball across the opposing team's goal line
• Contact between wheelchairs is permitted, and is in fact an integral part of the sport as players use their chairs to block and hold opponents
• Players must dribble or pass the ball at least once every 10 seconds
• There is no offside rule
• Matches consist of four eight-minute quarters, but the clock is stopped whenever there is a stoppage in the game
• It takes about one hour and 15 minutes to play a typical game from start to finish
• Wheelchair rugby is played indoors on a regulation-sized basketball court
• Elements from basketball are incorporated such as having 12 seconds to move the ball into the offensive half of the court, with goals to be scored before the expiration of a 40-second shot clock
• To score a goal, the player must have possession of the ball before two wheels of the their chair crosses the goal line
• Each team has four player timeouts and two coach timeouts. Coach timeouts are a maximum of one minute in length; player timeouts are 30 seconds and often used by players in order to prevent a turnover, such as a back court violation.
Wheelchair rugby players compete in manual wheelchairs specifically designed for the sport.
Players must meet minimum disability criteria and be classifiable under the sport classification rules. (Check back at Paralympic.org for a dedicated article on classification in wheelchair rugby.)
Wheelchair rugby is now an established Paralympic sport, with 28 countries having competed in international competitions and listed on the world ranking list, while more than 10 others are developing national programmes.
The International Wheelchair Rugby Federation (IWRF) is the global governing body of the sport.
Helpful links:
IPC webpage on wheelchair rugby
Rio 2016 webpage on wheelchair rugby
Editor's note: Each sport on the Rio 2016 Paralympic programme will have a dedicated week of featured content published on paralympic.org. Every week a new sport will be featured and the series will run until September's Games, helping the public understand more about the 22 sports being contested in Rio.
__
Sport fans from around the world can now buy their Paralympic tickets for Rio 2016 from authorised ticket resellers (ATRs)
The IPC's Global ATR is Jet Set Sports, and Rio 2016 tickets and packages can be purchased on the CoSport website.
Residents of Brazil can buy 2016 Paralympics tickets directly from the Rio 2016 website.