Spain get tearful for Tokyo 2020
20.07.2019
Paralympic berth has women's wheelchair basketball squad raving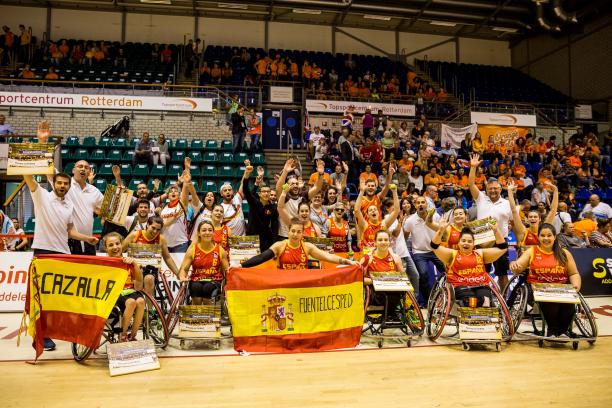 Spain earned a Paralympic berth to Tokyo 2020 after Rotteradam 2019
© • Steffie Wunderl
By By Stuart Lieberman | For the IPC
Spain's women's wheelchair basketball team did not win a medal at the European Championships earlier in July. But they are still raving about one achievement: qualifying for the Tokyo 2020 Paralympic Games.
It even brought them to tears.
"I started crying after that match where we qualified, and I think I just stopped crying yesterday," said team captain Sonia Ruiz. "We are all so pumped and still can't believe we qualified for Tokyo. All of us are so proud because we worked so hard for this and believed in our coaches, staff and team."
"I started crying after that match where we qualified, and I think I just stopped crying yesterday"
At the tournament in Rotterdam, Netherlands, the Spanish squad capitalised on victories against France and Turkey to propel themselves to the semi-finals before losing to eventual bronze medallists Germany.
Ruiz captained the squad with her leadership as one of the programme's most veteran players. Virginia Perez, a 4.0 player, lit up the stat sheet with a combined 46 points and 26 rebounds in their two victories at the event. Spain's impressive performance came just a year after their highest-ever seventh-place finish at the World Championships.
Still aiming high
Spain previously competed at the Barcelona 1992 Paralympics, but automatically qualified for that tournament as the host nation without having to earn their spot.
None of the players on the 2019 European Championship roster were at Barcelona.
But with a fourth-place finish at Rotterdam 2019, the Spanish women booked themselves a Tokyo 2020 Paralympic spot and a chance to experience the wonders not touched in 28 years.
The Netherlands, Great Britain and Germany are believed to be the top three contenders for the Paralympic podium next year. But Ruiz believes Spain has a fighting chance to contend with Canada and the USA to round out the top five or even be the dark-horse team to pull an upset.
"We lost to the USA at the World Championships by just two points, and we made many mistakes in that game, so we are sure we can beat them," she said. "Of course our goal is to have a great tournament and all of that, but our main focus is going to be to finish in the top five."
Basketball is arguably the second most popular sport in Spain after football.
At the Rio 2016 Games, Spain's men's basketball team took home Olympic bronze, their women's basketball team took home Olympic silver, and their men's wheelchair basketball team took home Paralympic silver.
Now it is the women's wheelchair basketball team to join the talks.
Ruiz, a 38-year-old veteran player from Murcia, has been waiting for this opportunity since the day she found out about wheelchair basketball while recovering from an accident in a hospital bed.
"This will be the first Paralympics for me after playing for 16 years," Ruiz said. "It's a dream."