Second National Paralympic Day to be held in Argentina
17.07.2015
The event will take place on 27 September and will feature demonstrations in many para-sports.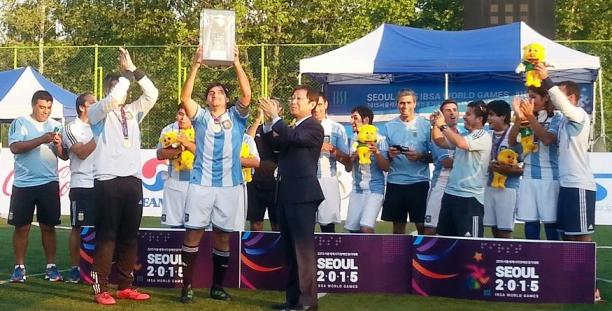 Argentina win the football 5-a-side competition at the Seoul 2015 International Blind Sports Federation (IBSA) World Games
© • IBSA Blind Football
By NPC Argentina
Following a huge success in 2014, the second National Paralympic Day in Argentina will be take place on Sunday 27 September in the historic Luna Stadium Park in Buenos Aires.
Starting at 14:00, the event aims to raise awareness of para-sport in Argentina through a festival atmosphere that includes sport demonstrations, live music, celebrities and awards.
The Argentine Paralympic Committee (COPAR) will present the EXPA awards which will recognise excellence in para-sport.
There will also be sport demonstrations in wheelchair tennis, wheelchair basketball, wheelchair rugby, football 5-a-side, judo and wheelchair fencing.
The event is organised by COPAR and admission is free. Tickets can be reserved on LunaPark's website.