Russia claim hat-trick of giant slalom world titles in Panorama
09.03.2015
World title wins for Frantceva, Bochet and Schaffelhuber on International Women's Day in Panorama, Canada.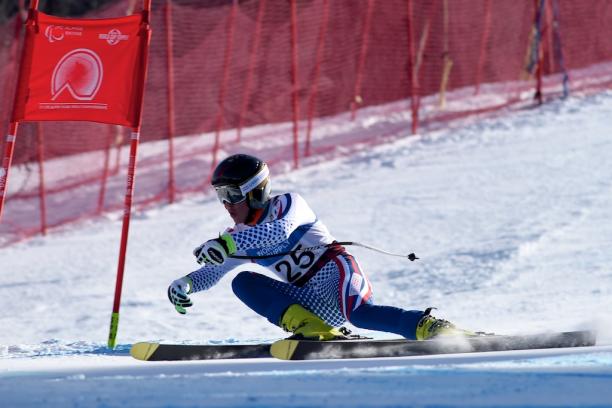 Russia's Alexey Bugaev won downhill and super-G at the 2015 IPC Alpine Skiing World Championships.
© • Alpine Peak Photography
Russian skiers had to a day to remember on Sunday (8 March) at the 2015 IPC Alpine Skiing World Championships in Panorama, Canada, winning three of the six giant slalom titles courtesy of Aleksandra Frantceva, Valerii Redkozubov and Alexey Bugaev.
The first gold of the day for Russia came with Frantceva and Semen Pliaskin coming from behind in the women's visually impaired.
Trailing Great Britain's teenage sensation Millie Knight and guide Jen Kehoe by over a second and a half after the morning's first run, Frantceva and Pliaskin (2:24.05) exploded in the second run to take their first gold of the Championships.
Knight and Kehoe (2:24.39) took silver, whilst Australia's Melissa Perrine and guide Andrew Bor (2:25.41) claimed the bronze.
"Today has been amazing, the course has been fantastic. I am very happy with my race," said 16-year-old Knight, the youngest medallist at Panorama 2015 so far.
Guide Kehoe added: "We've been working really hard in training just keeping our distance constant and clean and I think we achieved that today. We're really happy."
Sunday's action in Panorama coincided with International Women's Day and France's Marie Bochet and Germany's Anna Schaffelhuber, along with Frantceva, took centre stage.
Bochet (2:11.63) was again victorious in the women's standing and is now just one win away from becoming the first athlete ever to win five world titles back-to-back at successive World Championships.
Germany's Andrea Rothfuss (2:14.04) took silver and the USA's Stephanie Jallen (2:20.49) bronze.
"The snow was very different from the first run so you need to adapt your ski, but it ok. It's like spring weather here in Canada," said Bochet who, at just 21-years-old, has already won 10 world and four Paralympic titles during an amazing career.
"This victory is very fine as I was a little scared about the giant slalom as Andrea is very good in this discipline. I am so happy to beat her today."
Despite being on the verge of making history, Bochet is not taking a win in Tuesday's slalom for granted.
"You never know until it happens, I remember the slalom in the Paralympic Winter Games," said Bochet who failed to finish the event at Sochi 2014 just over one year ago. "We will just see what happens on Tuesday and I will try and do my best with good skiing and we will see."
Germany's Anna Schaffelhuber (2:14.82) claimed her second world title of the week in the women's sitting edging out her Austrian rival Claudia Loesch (2:17.02). Bronze went to Japan's Momoka Muraoka (2:23.46), her second medal of the week after taking silver in Wednesday's downhill.
"Today was a lot better than the last races. It was a lot better and the soft course helped me today," said Schaffelhuber who now has two world titles in Panorama, as does her rival Loesch. The German admitted she does not see Tuesday's slalom as some sort of decider between her and Loesch.
"I don't think about that honestly because I have to just focus on myself. I like slalom and I think I showed I am a quick skier in slalom and I am looking forward to it."
Loesch also denied that she believes the scores are level between the great rivals heading into Tuesday's final race.
"I crashed in super-G, so the count is not entirely level I would say, but we will see," said Loesch. "I'm good shape in slalom as we saw in the super-combined. It will be an interesting race."
Russia's second gold of the day came through Sochi 2014 bronze medallists Redkozubov and guide Evgeny Geroev (2:09.28) in the men's visually impaired. The pair was fastest in their second run and pushed Spain's Jon Santacana and guide Miguel Galindon Garces (2:09.88) the leaders after the first run into silver. Bronze and the Czech Republic's first medal of Panorama 2015 went to Patrick Hetmer and guide Miroslav Macala (2:11.71).
In the very next race, Redkozubov's teammate Alexey Bugaev maintained his 100 per cent record at this World Championships with victory in the men's standing. Fastest in both runs, Sochi silver medallist Bugaev (2:01.19) topped the podium ahead of the Austrian duo of Markus Salcher (2:02.16) and Matthias Lanzinger (2:04.27).
"I am really happy with this result. I only thought I could win two golds maximum here, so four is really good. It is impossible results, I am so happy." said a delighted Bugaev.
In the final race of the day Germany's Georg Kreiter took his second gold in as many days with the win in the men's sitting.
After the first run, less than 0.8 seconds separated the top five, but Kreiter (2:03.49) topped the podium after going fastest in the morning and second fastest in the afternoon session. New Zealand's Corey Peters (2:03.89) put in a spectacular second run to move up from fourth to take the silver. Bronze went to Japan's Taiki Morii (2:04.71).
"It's just crazy. Yesterday I got my first gold medal at a World Championships and today I got my second. It's amazing, I don't know what to say," said Kreiter who said he does not expect to make it a hat-trick of titles in Tuesday's slalom.
Panorama 2015, featuring over 100 athletes from 23 countries, runs until 10 March and will be streamed live at www.Panorama2015.com alongside live results. Viewers in the US can watch via US Paralympics website and in Canada at CBC.ca/Sports.
Official results are available at IPC Alpine Skiing's website.
Images from each day will be available at the IPC's Flickr page. Media wishing to receive high resolution images should contact Lucy.Dominy@paralympic.org.
Broadcast interviews will be available from a selection of winning athletes on each day. For access please contact jose.dominguez@paralympic.org.
Live updates and behind the scenes will be available at IPC Alpine Skiing's Facebook page and Twitter account and @Paralympics Instagram.