Roland Garros 2019: De Groot, Fernandez and Alcott prevail
09.06.2019
Dutch player makes wheelchair tennis history in Paris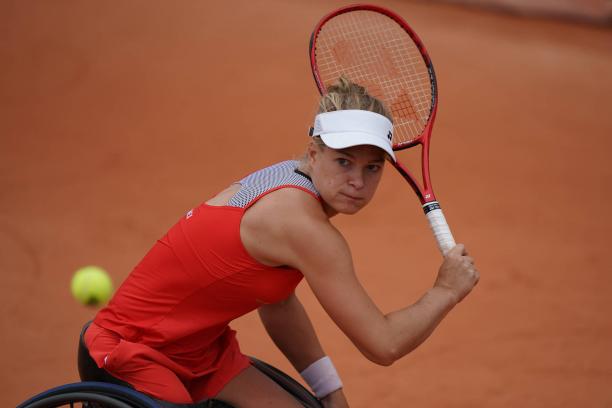 Dutch tennis player Diede de Groot in action at Roland Garros 2019
© • Takeo Tanuma
By ITF
Diede de Groot made wheelchair tennis history at Roland Garros 2019, becoming the first player to hold all four Grand Slam singles titles at once after avenging her 2018 final defeat by Yui Kamiji in commanding fashion.
The 22-year-old raced to a 6-1, 6-0 victory in 59 minutes to complete her Grand Slam collection – first made possible in 2016 by the introduction of wheelchair events at Wimbledon – and celebrated with her parents and sister who had driven from the Netherlands to watch the finals.
"It feels a bit unreal to be honest. There was a lot of pressure on me but I'm just really happy that I managed to keep it together."
"Luckily Paris isn't very far from home," said De Groot. "Usually they don't get to see me play because they work and can't get that much time off, but this week, when it's only a four-hour drive they can do it all in a day. It's really good to have them here."
Victory in Paris was De Groot's sixth Grand Slam singles title, having lost just twice at the majors since claiming her first crown at Wimbledon 2017, and her fourth successive twin victory, having defended her doubles title with Dutch compatriot Aniek Van Koot with a 6-1, 6-1 win over Germany's Sabine Ellerbrock and fellow Dutchwoman Marjolein Buis.
"It feels a bit unreal to be honest," said De Groot, who came into the match feeling tense after a tough semifinal encounter with Van Koot on Friday.
"I wasn't actually feeling very confident after yesterday. I didn't play very well and was really looking forward to playing my doubles yesterday to get my rhythm back. But then it was cancelled so that didn't work out. I had to do it today, and there was a lot of pressure on me but I'm just really happy that I managed to keep it together."
Against Kamiji, however, the world No. 1 was quickly into her rhythm, dictating the rallies and hitting cleanly on the half-volley to stave her opponent of time. Having played a very different style of play against Buis in her semifinal, the defending champion struggled to adjust to the higher tempo De Groot demanded of her and was swept away on another windy day in south-west Paris.
"Last year I won the first set well as well," said De Groot, who had to bury memories of her defeat from a set up in 2018 as Kamiji took a comfort break after the opening set. "When Yui left the court, I had time to think. Everything goes through your head, and you need to put it to the back of your mind and continue with what you're doing."
With victory at all four majors in both singles and doubles now on her resumé, De Groot admitted one major is particularly close to her heart.
"Wimbledon for me was the first time that I won it [a Grand Slam], so that will always be very special, and the atmosphere at Wimbledon is very authentic. I really like being there," she said. "But the Australian Open has always been my favourite Slam. I just like how tough the conditions are – you're far away from home, it's so hot – and I like kangaroos!"
Alcott doubles down
Dylan Alcott ensured his name would be the first inscribed on the new quad wheelchair trophies at Roland Garros after claiming a historic double in Paris.
The world No. 1 beat David Wagner 6-2, 4-6, 6-2 in the inaugural singles final before partnering the USA player to clinch the first doubles title with a 6-3, 6-3 win over Koji Sunego of Japan and Brazil's Ymanitu Silva.
"Two down, two to go," said Alcott, who now has both the Australian Open and Roland Garros titles to his name in 2019 – and with Wimbledon hosting its first quad tournament in July, the Australian has designs on following in the footsteps of Rod Laver by claiming all four majors in a single season.
"I'm serious about this Grand Slam thing," he said. "I'm going to go home and have a hit on the grass. I love Wimbledon – getting to play last year was so cool. I'll have my full team with me, my partner Chantelle, and it's going to be unbelievable."
Alcott certainly didn't have it all his own way against Wagner, who battled back from a set down to force a decider behind a series of unplayable returns and forays into the net.
But having left the court before the third, the 25-year-old returned with fresh focus, breaking twice to seal the win, making Saturday a double success for the Australians in tandem with Ashleigh Barty's women's singles triumph.
"She's such a legend and a friend of mine. She deserves it. And she's a cross-sport person like I am – she went tennis-cricket-tennis, I was tennis-basketball-tennis. I'm super-proud of her. She's getting the love she deserves back home, and I think I'm piggybacking off that.
"But I have done the double. I feel awesome. I'm just so glad we're finally here, and to win means everything."
Fernandez claims second Paris crown
Gustavo Fernandez put on another sterling display of power tennis to secure his second Roland Garros men's wheelchair singles title in style, beating Great Britain's Gordon Reid 6-1, 6-3.
The Argentinian, who won the first of his four singles majors in Paris in 2016, has now won both men's singles titles in 2019 after claiming the Australian Open crown in January.
"When I arrived in 2016 I was injured and I played with a fever the whole week, and I won it anyway," he said, reflecting on the preparation work he had done to claim this title.
"Those things, you cannot be ready for. But when you are feeling 100% good, sometimes you play the best that you can. It's not always possible, because of the tension and the pressure from the other players, but this time I did a great job and I think that it was shown on the court."
With former Argentina soccer star Juan Sebastian Veron watching from the stands, Fernandez produced a third commanding display in as many days, quickly taking control of the match before Reid found a foothold in the second set.
By then, however, the 27-year-old was in control, and eased to victory in one hour, 10 minutes.
"I was really playing at a really high intensity," said Fernandez, who met Veron – a former player at the club he supports, Boca Juniors – after the match.
"I knew I had the strength and the power and the mental capacity to play like that. I know he can do it too, so I was ready for that. He did a great job, but I played really well today.
"I've met Veron a couple of times, but I don't think he's been to see me play before, so that was a great honour. He said he liked my game, that I played great."
Read more at Wheelchair ITF.