Road to Bonn 2019 detours at Mainhatten Cup
01.06.2019
Para dancers continue Worlds preparations in Frankfurt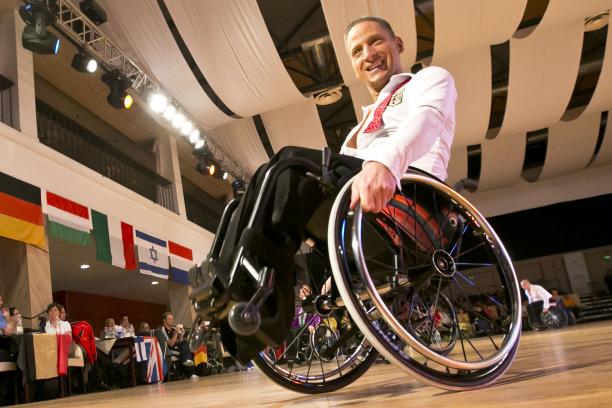 Germany's Erik Machens will be one of the home stars at the Mainhatten Cup in Frankfurt
© • Roman Benicky
By World Para Dance Sport
Less than 200km from the site of the 2019 World Para Dance Sport Championships is the Mainhatten Cup, one major stop along the road to the sport's main event this year in Germany. From Saturday to Sunday, 70 athletes from 14 countries will be in Frankfurt, hoping to put on winning performances ahead of November's Worlds.
It will be a long-awaited return for home favourite Erik Machens. The two-time World Championship silver medallist did not compete at the 2018 European Championships. But he will be eager to take on his first competition in nearly a year, taking on the men's singles 1, which he won European gold in 2014.
Hong Kong's reigning world champion Ma Wah Keung will be watched with anticipation in the men's singles class 1, his signature event. He will also take on the singles freestyle, one which he took Worlds bronze in.
In the women's singles 1, exciting young talent Julia Sadowska will look to pick up – or better –her performance from April's Cuijk International Competition.
The 21-year-old caught attention when she won the 2018 European bronze medal in the standard dance. In Cuijk, the Polish athlete missed out on the podium in the discipline but did leave with a bronze medal in the singles freestyle. She would hope to leave with two medals this weekend.
Belgium's Sofie Cox and Austria's Sanja Vukasinovic also came away from Cuijk with a silver and bronze medal, respectively, in the women's singles class 2. They are expected to battle for the top prize in the Mainhatten Cup.
In the couples dances, Ma will team up with standing partner Chan Kam Tim in the duo standard 1 and duo Latin 1, the latter which they captured World Championship silver.
Slovakia's Maria Dutkova and standing partner Martin Solc could steal the show in the combi standard and freestyle 2 dances. They proved their strength in both disciplines after winningbronze and silver respectively at the 2018 Europeans.
The Mainhatten Cup is the second competition of the season and will be streamed live on World Para Dance Sport's Facebook page.
The 2019 World Championships will be held 29 November – 1 December in Bonn, Germany.