Rio 2016 shooting qualifier to kick-off in Sydney
14.09.2015
The penultimate Paralympic qualification World Cup will see more than 150 shooters from 34 countries try to seal places for their countries from 15 September.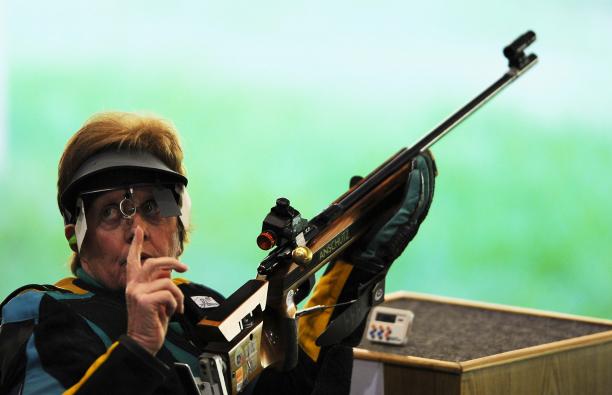 Libby Kosmala of Australia competes in the Mixed R6-50m Free Rifle Prone SH1 Qualification Shooting competition at the Beijing 2008 Paralympics
© • Getty Images
By IPC
Qualification for the Rio 2016 Paralympic Games is set to intensify as more than 150 shooters from 34 countries gather in Sydney, Australia, for the IPC Shooting World Cup which gets underway on Tuesday (15 September).
The World Cup is the second Paralympic qualifier of 2015, and also acts as the penultimate competition where athletes can secure quota places for Rio 2016 in less than one years' time.
Australia head into their home World Cup with six places already confirmed. Experienced rifle shooter Libby Kosmala, with an incredible seven Paralympic Games behind her, will lead her team out at the Sydney International Shooting Centre.
Teammate Mark Bradley is searching for a place at his second Paralympic Games, and will go up against New Zealand's Philip Skinner, who finished in the top 10 in R4 (mixed 10m air rifle standing SH2) on his competitive debut in Antalya, Turkey, in May.
New Zealand have sent their biggest ever team to a World Cup with the target of an increased squad for Rio 2016, led by Athens 2004 Paralympic champion Michael Johnson.
"With upcoming World Cups in Sydney and the USA, New Zealand has the potential to send more than one Paralympic shooter to Rio; it's just up to those shooters to perform," Johnson said.
Powerhouses South Korea have the biggest contingent in Sydney with 23 shooters.
Whilst the country already have 11 tickets to Brazil through performances from R3 (mixed 10m air rifle prone SH1) world champion Jinho Park, the team will be looking to assess the progress of their competitors.
The USA are also hoping for a strong showing as they continue to develop their shooting para-sport programme. With two places already confirmed for Rio 2016, John Joss and Shaun Tichenor, both on active duty with the armed forces, are on the hunt for more spots to add to those already sealed by 19-year-old riflewoman McKenna Dahl and pistol shooter Michael Tagliapietra.
Rio 2016 hosts Brazil have sent nine athletes, including pistol shooter Geraldo Rosenthal who was awarded 2013 Best Shooter of the Year by the Brazilian Paralympic Committee. Debora Campos has already secured a place for her country in P3 (mixed 25m pistol SH1).
A number of other countries are looking for their first quota places including Canada, Croatia, India, Kazakhstan, Kenya, the Netherlands, Portugal, South Africa, Singapore and Thailand.
The 2015 IPC Shooting World Cup in Sydney runs until 19 September. Live results will be available at the IPC Shooting website.
Live updates, behind the scenes content and pictures will also be posted to IPC Shooting's Twitter and Facebook pages under the #SydneyWorldCup15.
The final Paralympic qualifier of 2015 will take place in Fort Benning, USA, from 3-7 November.