Reptyukh 'eager to test' himself at season opener
07.12.2014
Ukrainian cross-country world champion Ihor Reptyukh cannot wait to get started on the road to Cable 2015 at the first World Cup of 2014-15.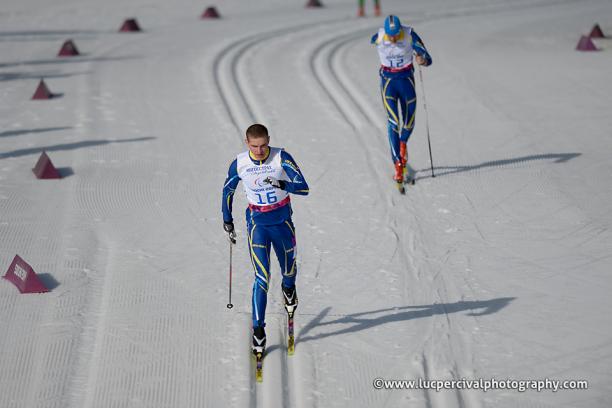 Ukraine's Ihor Reptyukh hopes to improve on his performance at Sochi 2014 in the 2014-15 season.
© • © Luc Percival Photography
By IPC
"I hope this strategy will help me to come to the World Championships 2015 at my very best conditions"
Ukrainian biathlon world champion Ihor Reptyukh is raring to go just days before the IPC Nordic skiing season kicks off in Vuokatti, Finland, on 10 December, aiming to assess his chances of retaining his 12.5km standing title at the 2015 Worlds.
"After long months of training in summer and autumn I am eager to test myself, compare with other competitors, to evaluate my chances to win at the World Championships," he said.
Reptyukh, 20, revealed that he did not perform as he expected at the Sochi 2014 Paralympic Winter Games. This was despite a successful 2013-14 season where he finished on the podium six times at World Cup biathlon and cross-country races.
He said he has made changes to his approach in the hope of improving ahead of the 2015 IPC Nordic Skiing World Championships in Cable, Wisconsin, USA, from 23 January-1 February.
"After deep analysis of my results in Sochi we made some corrections in the training process," Reptyukh, who did not pick up any individual medals in Sochi, said. "Now I have a plan as to how much I will put into trainings and competitions, we decided to prioritise some competitions and not to give all the strength at others."
The entire Ukrainian contingent has been in Vuokatti for the last week preparing for the World Cup, which is being held at one of the most popular venues on the circuit.
Reptyukh thinks this will give the whole team the best chance of scoring precious points.
"I like that we will have time for training on Vuokatti tracks," he said. "We will be able to practice and study every kilometre of the track, every turn, every narrow part. I think this is a good advantage and the best conditions to improve results."
One of Reptyukh's greatest rivals, teammate Grygorii Vovchynskyi, will have the same advantage.
Vovchynskyi finished second to Reptyukh at the 2013 IPC Nordic Skiing World Championships in Solleftea, Sweden, in the men's 12.5km individual biathlon standing but beat him into silver over 7.5km.
Reptyukh keeps his compatriot close.
"We are colleagues. We become competitors at the competition track. The strongest, the most prepared and trained one will win, that is why there is nothing to be offended or to be jealous about," he said.
Reptyukh believes that the strength and set-up of the team, from the training programmes to the quality of the coaches and his change in approach for this year, is exactly why "nothing can stop" him winning gold.
"I hope this strategy will help me to come to the World Championships 2015 at my very best conditions," he said.
Races begin in Vuokatti on Wednesday (10 December) and run until 17 December and will feature over 100 athletes from 12 countries competing in both cross-country and biathlon.
Cable 2015 will gather over 150 athletes from 20 countries in the biggest gathering of Nordic skiers since Sochi 2014.
Media accreditation is available at the Cable 2015 website.