From refugee camps to World Cup: Wisam Sami's remarkable rise
17.07.2019
Wheelchair fencer travels to compete in international event for first time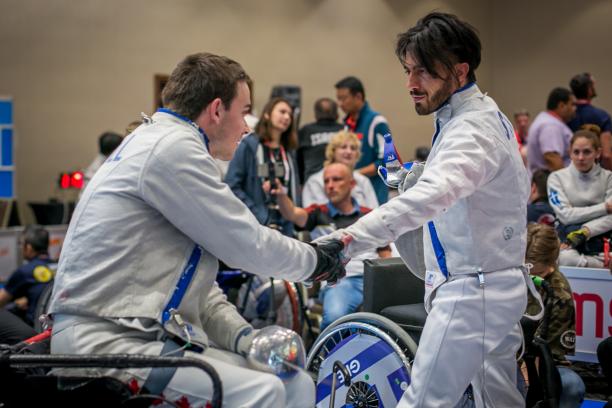 Iraq refugee Wissam Sami (right) competed for the first time in the IWAS Wheelchair Fencing World Cup in Warsaw, Poland
© • Anna Liminowicz/Agitos Foundation
By AMP Media | For the Agitos Foundation
It's day one of the IWAS Fencing World Cup in Warsaw, Poland, and a cluster of intrigued spectators have gathered around Piste 7 in the main arena.
In front of them are Ryan Rousell, a talented 21-year-old Canadian, and Wisam Sami - a 28-year-old Iraqi who was recently granted asylum in Greece.
Sabres poised, eyes fixated on each other, the pair wait with baited breath for the signal to commence combat.
While I lost the games, I won many lessons. Playing top fencers, many champions, has opened my eyes to what I need to do to be better
"En garde!" shouts the referee. "Allez!"
A flash of blades and the point is awarded to Rousell, a rising star in the sport who won gold at the Montreal World Cup last year.
He is heavy favourite against Sami, a relative novice competing in his first ever World Cup. But it isn't Rousell that the crowd have come to see.
The extraordinary and often harrowing story of Sami – a refugee who has been training and competing as a wheelchair fencer since 2017 with the support of the Hellenic Paralympic Committee (NPC Greece) and the Agitos Foundation – has already captivated many within the sport's tightly knit community.
At the age of three, his mother took him to hospital for a persistent fever where he was mistakenly administered an injection which was meant for adults. The effects left his right leg permanently damaged, meaning that he now walks with severe limp, but he remained determined to participate in sports growing up, refusing to use crutches.
In 2010 he attempted to join a fencing club in his hometown of Mosul but was turned down.
"They didn't even give me a chance," he said. "There was a coach who told me, 'You can't play this game, because we already have a lot of players.' Sometimes there are people who want to take your dreams away from you. But I always hoped I would one day get to try."
But three years later, the rise of Islamic State within Iraq would see Sami's life change forever.
In 2014, they overthrew Mosul, and murdered his younger brother, a local policeman.
"They killed him in cold blood," he said. "He was only 21. They had asked my family for money, for $5,000, but my father said, 'If we give them this money, they will only buy weapons and kill more people.' So he said no, and then they killed my brother."
As a talented photographer and filmmaker, Sami was approached by the terrorists to work for them. When he refused, he was told his life was in danger, and so he fled the country.
It was the beginning of a long journey, first to Syria – where he heard that Islamic State officials were still searching for him – and then to Turkey.
For the next two years, he worked odd jobs around the city of Gaziantep, hoping to build a new life, but the language barrier made it difficult to settle.
"Few people there speak English, and if you don't speak Turkish it's very difficult to find permanent work," he says. "You can't do anything."
In 2016, Sami made his way to the coastal city of Izmir where mafia groups were smuggling the many refugees arriving from the Middle East and North Africa across the Aegean Sea to the islands off the coast of Greece.
"They told me, it's a good trip, very easy," he remembered. "But when we arrived at the port, everything was different. Instead of 20 people per boat, we were more than 50.
"We set off in the dark, around 1am, and before long the boat began to take in water. The next thing I knew, everyone was in the sea. I could swim, but many couldn't. My friend from Palestine drowned, and there was nothing I could do. At that moment I saw everything that ever happened in my life, my family, my brother. Eventually after many hours, helicopters arrived, and we were taken back to Turkey."
Believing his family were dead, Sami decided he had nothing to lose and so embarked on the treacherous mission again. This time the boat was detected by police off the Greek coastline and sent back. So he tried again.
At the fifth attempt, he finally made it to the islands, where he was taken to a refugee camp.
"It was difficult," he said. "We were sleeping in tents. It was very cold in the winter and very hot in the summer. But after nine months, I was taken to hospital about my legs, and they sent me to Athens."
Now living in the capital, Sami was introduced to NPC Greece by a friend from Iraq. He tried a number of sports, but once again, it was fencing which captivated him.
"When I take the sword, I feel I have power, energy inside me," he said. "When I attack in fencing, in my mind I am killing everything wrong inside my country."
Through Facebook, Sami has since learnt that his family survived the rule of Islamic State and is alive. Last year he spoke to them for the first time in four years.
"They thought I was dead because they didn't have any news about me for so long," he said. "Now I tell them that I am in Greece, and I am fencing."
Invited by the International Wheelchair Federation (IWAS) and the Agitos Foundation, Sami did not make it past the group stages in his first World Cup, but buoyed by the experience of competing against some of the best wheelchair fencers in the world, he has high hopes for the future.
"When I'm playing, I have the wrong attacks, the wrong defence but at least I'm there," he said. "While I lost the games, I won many lessons. Playing top fencers, many champions, has opened my eyes to what I need to do to be better."
Now he has his sights set on qualifying for next year's Paralympics in Tokyo, an achievement which would complete a remarkable journey.
"I hope I can make it," he said.
"I'm not sure, but I will train hard and I feel I have a good future in fencing. Agitos have helped me for everything, and they're making it possible to chase my dream. I told them my story and they said, 'Just do it. Follow your dream, maybe you can.'"