Rahman king of the powerlifters at Almaty 2015
30.07.2015
Iranian world and Paralympic champion breaks his own world record twice to lift 295kg.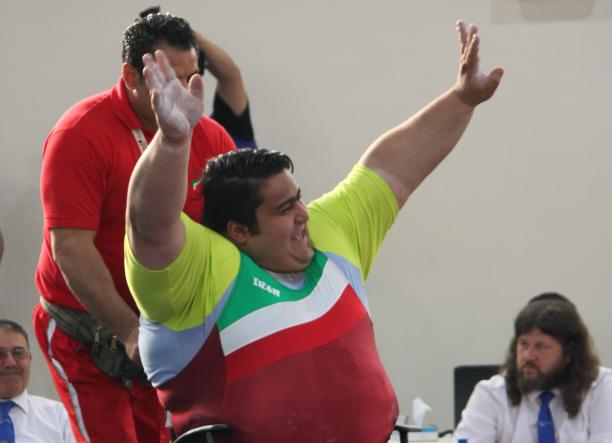 Siamand Rahman proved his worth as one of the strongest Paralympians by lifting 285.5kg in the men's +107kg to beat team mate and world record holder Mansour Pourmirzaei at the 2014 IPC Powerlifting World Championships.
© • IPC
By IPC
The world's strongest Paralympian, Iran's Siamand Rahman, showed his strength and prowess once again on Thursday (30 July), lifting 295kg to take gold in the men's over 107kg world record at the 2015 IPC Powerlifting Asian Open Championships in Almaty, Kazakhstan.
World and Paralympic champion Rahman has now broken his own world record eight times in the space of 15 months, including three times each at the World Championships in April 2014 and October's Incheon 2014 Asian Para Games.
He continues to edge ever closer to his ultimate goal of 300kg, which he may save for the biggest stage of all – the Rio 2016 Paralympic Games.
Rahman warmed up at the Baluan Sholak Sports Palace with a 270kg first lift, before setting about breaking the record in the second round by adding 1kg onto his former 292kg best.
Sensing the crowd wanted more, Rahman decided to go for broke in the third and final round, successful pushing 295kg to write his name into the history books once again.
His teammate Ahmad Aminzadeh (228kg) took silver whilst South Korean Keun Bae Chun (228kg) rounded-off the podium.
Following her 2014 world title win with a new world record, Nigeria's Precious Orji was back in form once again, setting a new best of 153kg in the women's over 86kg.
Orji showed her experience over three rounds, beginning with a 145kg lift. On her second attempt the 36-year-old added 1kg onto her own 151kg world record, before a climactic conclusion saw her break it once again in the final round.
China's Ruifang Li (130kg) showed that she is one of the best powerlifters in the region, taking the Asian title with a new regional record.
South Korean Hyun Jung Lee, the Asian champion from 2013, settled for Asian silver and Open bronze with a 122kg haul. China's Xuemei Deng (113kg) claimed the Asian bronze.
Nigeria's Blessing Nwakanma (130kg) was victorious in the women's up to 86kg, following two good lifts.
China's Fengmei Li (128kg) added 16kg onto the Asian record to take Asian gold and Open silver, whilst her teammate Yan Wang (115kg) grabbed Asian silver.
The UAE's Haifa Naqbi lifted 105kg to complete the Asian podium.
At the end of the competition at Almaty 2015, China topped the medals table with 19 medals, including eight gold, seven silver and four bronze. Nigeria came second with six golds and four silver medals, whilst Iran finished third with three titles and four silvers.
The Almaty 2015 IPC Powerlifting Asian Open Championships will run until 30 July and feature more than 220 athletes from 32 countries in one of the biggest Asian Championships ever.
Live results and coverage are available at Almaty2015.com and updates and news published at IPC Powerlifting Facebook and Powerlifting Twitter.
Following Almaty 2015, powerlifters will head to the IPC Powerlifting European Open Championships in Eger, Hungary, from 24-28 November.