PyeongChang 2018: US Nordic skiers named
06.02.2018
Oksana Masters heads group of 15 competing at Winter Paralympics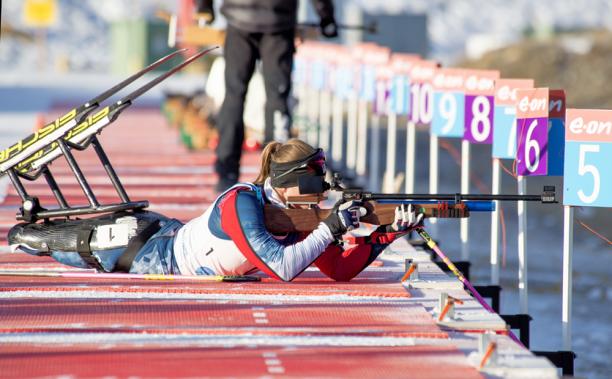 Oksana Masters is a favourite to win biathlon gold at PyeongChang 2018
© • Pam Doyle
By US Paralympics
US Paralympics has announced the 13 athletes and two guides named to its Nordic skiing team for the PyeongChang 2018 Paralympic Winter Games. The team, which boasts eight Paralympians, will compete in biathlon and cross-country skiing at the Games, which runs 9-18 March.
"We are thrilled about the 15 athletes selected to represent Team USA at the Paralympic Winter Games," said John Farra, director of US Paralympics Nordic Skiing. "Led by our experienced athletes with proven success, we're excited about the strong delegation we are bringing to PyeongChang and look forward to fighting for podium results in each competition."
The team is headlined by three-time Paralympic medallist Oksana Masters. Masters has been a trailblazer in the sport since 2013, making history at Sochi 2014 when she won silver and bronze to become the first US woman in 20 years to win a Paralympic medal in cross-country. She is also the first American woman to win a world title in Para Nordic skiing after capturing an unprecedented four gold medals at the 2017 World Para Nordic Skiing World Championships. This will mark the fourth Games overall for the multi-sport athlete, who won a bronze medal in rowing at London 2012 and competed in cycling at Rio 2016. Heading into PyeongChang, Masters continues to dominate in the 2017-18 World Cup season, having won 10 medals during the first two competitions.
On the men's side, seven Paralympians return to the team, including Paralympic bronze medallist and seven-time world championship medallist Andy Soule. Soule will compete in his third Paralympics dating back to 2010, where he won the first US medal in the Olympic or Paralympic Winter Games in biathlon with a bronze in the men's 2.4-kilometre race. Paralympian Dan Cnossen, who won six medals in just eight starts during the 2016-17 World Cup season, will look to continue his strong performance in the sport, while three-time Paralympian Aaron Pike and two-time Paralympian Sean Halsted will also compete for the first Paralympic medals of their careers. Jake Adicoff, who won two gold medals and one bronze medal in cross-country events with new guide Sawyer Kesselheim at the 2017 World Cup stop in PyeongChang, returns for the second Paralympics of his career. Two additional athletes return from Sochi 2014, including Bryan Price and Jeremy Wagner.
Rounding out the team are seven athletes who will make their Paralympic debut: Kendall Gretsch, Grace Miller, Ruslan Reiter, Joy Rondeau, Mia Zutter, and guides Kesselheim and Kristina Trygstad-Saari.
Competition will begin on 10 March with biathlon sprint and will finish with the mixed and open relays on 18 March.
2018 US Paralympic Nordic Skiing Team
Men
Jake Adicoff – vision impaired
Dan Cnossen – sitting
Sean Halsted – sitting
Sawyer Kesselheim – guide
Aaron Pike – sitting
Bryan Price – sitting
Ruslan Reiter – standing
Andy Soule – sitting
Jeremy Wagner – sitting
Women
Kendall Gretsch – sitting
Oksana Masters – sitting
Grace Miller– standing
Joy Rondeau – sitting
Kristina Trygstad-Saari – guide
Mia Zutter – vision impaired