PyeongChang 2018: Snowboard flash quotes day 3
12.03.2018
Athletes' reaction to five medal events on Monday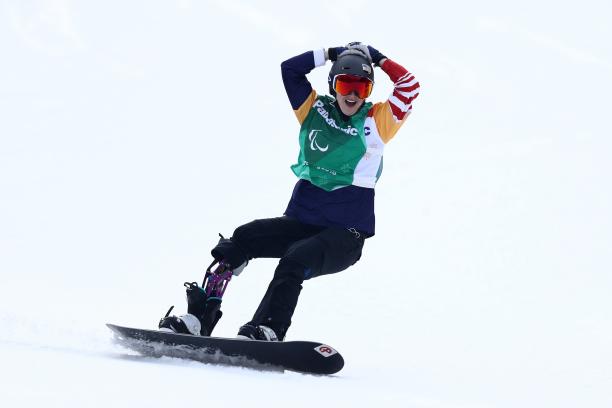 Brenna Huckaby celebrates after winning her first Paralympic title
© • Getty Images
Bibian Mentel-Spee (NED) - gold - women's snowboard cross SB-LL2
"I think [silver medallist] Lisa Bunschoten (NED) gets the credit as well. It was really tight racing up until we crashed and we both could have won. She's so strong nowadays and she's absolutely the next super champion, so I'm really feeling bad that she hurt herself, but luckily she's OK. She has a cut on her cheek, but she's getting to the hospital now."
Brenna Huckaby (USA) - gold - women's snowboard cross SB-LL1
"It's incredible. In the start gate I said to myself, 'For Lilah', because that is one of the main reasons... and pushing through trying times to show her that she can do anything that she wants. It was hard today but I just reminded myself why I do this and it's for her and that helped.
"It was such a trying and intense day and to be able to walk away successful is huge."
Amy Purdy (USA) - silver - women's snowboard cross SB-LL1
"It takes years to get to this point and today was the first day that I beat some of the other girls.
"Maybe I didn't win the big final but I was able to beat girls that I was never able to beat in the past. That's a huge accomplishment. For me it just comes down to being able to be in the moment, breathe through it and stay totally relaxed."
Mike Schultz (USA) - gold - men's snowboard cross SB-LL1
"What a day. It started out rough on my time trial and I went down and got shuffled back to fifth place and unfortunately I had to square up with my teammate Mark Mann pretty early on. But I won, and won again, and won again and (got) a gold for Team USA. It's an incredible feeling. It's definitely still sinking in a little bit here."
Simon Patmore (AUS) - gold - men's snowboard cross SB-UL
"It was a team effort. I couldn't have done this without having these guys [his two Australian snowboard teammates] and Joany [Badenhorst, AUS] all of them. If I didn't have these guys in my life through the whole process, the three years I have been snowboarding for, I wouldn't have been successful."
Manuel Pozzerle (ITA) - silver - men's snowboard cross SB-UL
"I had three good starts. In the final, [Simon] Patmore (AUS, gold) was strong in the start. On this course it is difficult to overtake, it's very fast."
Matti Suur-Hamari (FIN) - gold - men's snowboard cross SB-LL2
"The course was pretty rough and that's not really my riding style. It was getting really bumpy and when the start gate broke it was lots and lots of waiting and being patient. That was the hardest part. It wasn't an easy day so I am even more glad to be the winner after a day like this.
"It is pretty cool. I can say that."
Keith Gabel (USA) - silver - men's snowboard cross SB-LL2
"It was intense. There's a lot going on up top, a lot going on that we really didn't have that much control over – a lot of hurry up and wait. But that's kind of typical of competitions. The right things go wrong, there's stuff you can control, things you can't, so I try not to focus on the stuff that I can't. I try to go out there and have a good time."