PyeongChang 2018: IPC President's Speech
09.03.2018
Full text of Andrew Parsons' Opening Ceremony address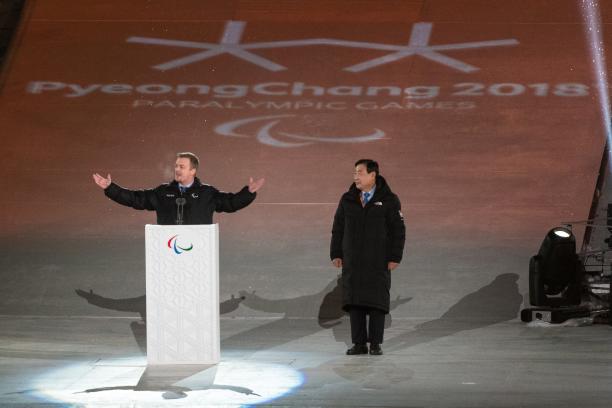 IPC President Andrew Parsons at the PyeongChang 2018 Opening Ceremony
© • Lieven Coudenys
Dayhanmingook, gookmin yeoreoboon (Citizens of Korea)
Sport fans all around the world,
Athletes, officials and distinguished guests,
Hwanyounghamnida (Welcome)
Good evening and welcome to the PyeongChang 2018 Paralympic Winter Games.
Everything starts with a dream. Great stories, great achievements, great drama. In a dream anything is possible. Over the next 10 days, billions of people around the world will witness dreams becoming true here in PyeongChang.
Without a dream, there is little hope. Seventy years ago this year, Sir Ludwig Guttmann gave hope to millions with his vision of creating opportunities for people with an impairment through sport.
Today his dream is stronger than ever. Paralympic sport not only changes lives but also changes the world.
The journey of an athlete starts with a dream: the dream of competing in sport; of representing your country; of winning a medal and writing your name in to history.
From tomorrow Paralympic athletes will turn their dreams into reality. They will perform feats that some might not even dare to dream about. Speed, skill, strength, endurance, and intelligence; tremendous abilities that will at first surprise you, but ultimately will inspire and excite you.
Once, a wise man said: "a dream you dream alone is only a dream. A dream you dream together is a reality."
For nearly 20 years this country has dreamt of staging its first Paralympic Winter Games. President Lee and members of the PyeongChang 2018 Organising Committee, because of you, we are now living that dream.
Thank you also to the Korean National Government and the Gangown Province for your commitment to these Games.
The record number of countries all feel at home here in the snow of PyeongChang. This is thanks to the warm welcome from thousands of amazing volunteers and their beautiful smiles.
I would also like to thank our partner the International Olympic Committee led by its President Thomas Bach who joins us this evening.
Together we deliver the most spectacular event in the world.
Together, we change the world through sport and together, we strive for a better sport.
With the eyes of the world upon us, the IPC will continue to stand-up to any threat to clean and open sport. We will not be complacent. We will not be tolerant. We will do what is right for our athletes.
Paralympians, you are here in record numbers. Keep fighting, play fair, have fun and keep pushing your limits. Above all keep dreaming, and may your dreams be realised. Your extraordinary stories are what dreams are made of and will be told for years to come.
I wish you all the best of luck.
Thank you!!! Obrigado!!! Gamsahamnida!!!
It is now my honour to invite the President of the Republic of Korea, His Excellency Moon Jae-in to declare open the PyeongChang 2018 Paralympic Winter Games.