Powerlifting professionals progress in Nigeria
16.08.2017
13 African countries attend World Para Powerlifting workshop in Lagos.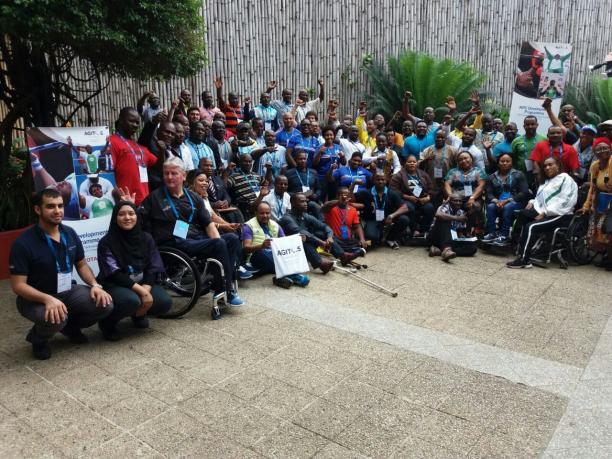 More than 50 powerlifting professionals took part in the Nigeria workshops
© • Agitos Foundation
By IPC
A total number of 52 classifiers, technical officials, referees, athletes and coaches from 13 African countries participated in World Para Powerlifting workshop held in Lagos, Nigeria, from 10-12 August, in the lead-up to the Mexico City 2017 World Championships.
Countries in attendance included Burundi, Cameroon, Cape Verde, DR Congo, Ethiopia, Guinea-Bissau, Ghana, Kenya, Nigeria, Rwanda, Sierra Leone, Tanzania and Uganda.
The workshop was funded by the Agitos Foundation, the development arm of the International Paralympic Committee, through its National Paralympic Committee (NPC) Development Programme supported by International Paralympic Committee's Worldwide partnership with Toyota, and consisted of three different courses.
The year's fourth National Classification Course was led by educator Oussama Boudoumi and covered the following topics: history of classification, understanding the IPC Classification Code, evidence based classification, powerlifting classification scope and application, athlete evaluation, classification personnel, classification panel, classification process and carrying out classification test, protests and non-eligibility classification area and rooms, administration and Codes of Conduct.
Referee Course participants learned about the competition cycle, management and venue, athlete classification and eligibility, competition processes, athlete passport and competition forms, AH Formula and minimum qualifying standards, technical officials selection, roles and responsibilities, World Para Powerlifting technical rules and regulations, and lifter uniform and kit check from educator Noor Syahieda Binti Mat Shah. It was the eighth powerlifting referee course in 2017.
World Para Powerlifting Chairperson and Educator Jon Amos led the Athlete and Coaching Training Camp, with athletes joining their coaches for demonstration and training, and being introduced to the Paralympic values.
The Mexico City 2017 World Para Powerlifting Championships will take place from 30 September-6 October, with around 360 powerlifters from 65 countries competing at the Juan de la Barrera Olympic Gymnasium.
For more information on World Para Powerlifting education programmes please contact jana.hasenberg@paralympic.org and visit the education website.