Popow sends Reardon warning shot with 100m world record
15.07.2013
German smashes Australian's world record ahead of world title showdown on 26 July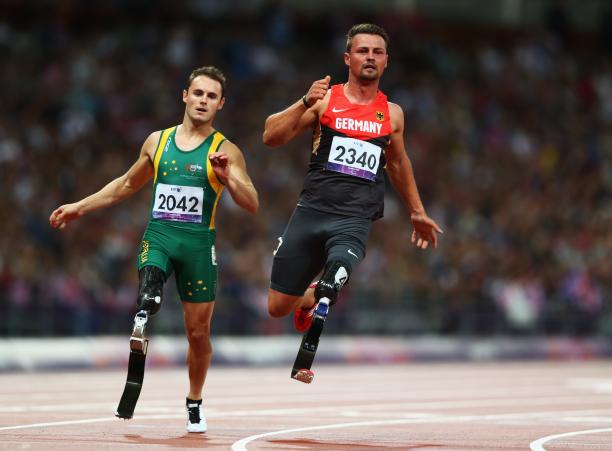 Heinrich Popow of Germany crosses the line to win gold ahead of silver medallist Scott Reardon of Australia in the Men's 100m T42 at the Paralympic Games in London
© • Getty Images
"I had the record for 17 years and am so proud that someone I inspired and mentored has replaced my name in the record books."
Germany's Heinrich Popow sent out a clear message to his rival Scott Reardon that he is no mood to relinquish his 100m T42 world title at the 2013 IPC Athletics World Championships by smashing the Australian's world record over the distance last Friday (12 July) at a meeting in his hometown of Leverkusen, Germany.
The 29 year old world and Paralympic champion ran 12.11 to lower the previous record of 12.14 which was jointly held by Reardon and Canadian Earle Connor.
Connor, the 2000 and 2008 Paralympic champion, set his record 11 years ago whilst Paralympic silver medallist Reardon, who finished just 0.03 seconds behind Popow at London 2012, set his time in April 2013.
The rivalry between the two sprinters has intensified in recent weeks with Reardon's coach claiming that Popow was playing mind games with her 23 year old prodigy ahead of their much anticipated 100m world title race on Friday 26 July.
After seeing his 11 year old world record broken, Earle Connor, who held the T42 record for even longer, was full of praise for Popow.
"I had the record for 17 years and am so proud that someone I inspired and mentored has replaced my name in the record books," Connor tweeted on Friday evening.
"It was a pleasure to share the record with Scott Reardon for a few months. What a final the T42 100m will be in Lyon."
The 2013 IPC Athletics World Championships opens this Friday (19 July) and will feature over 1,100 athletes from 98 countries. It is the biggest gathering of international athletes since London 2012 and will be streamed live from Saturday morning via ParalympicSport.TV.
Live results can be found at the Lyon 2013 IPC Athletics World Championships website whilst updates and behind the scenes pictures can be found at twitter.com/IPCAthletics and facebook.com/IPCAthletics