Plovdiv 2018: Moran Samuel's new motivation
07.09.2018
World champion shares dramatic experience on return after giving birth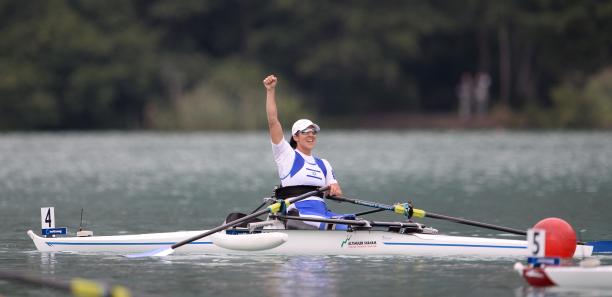 Israel's Moran Samuel celebrates after winning the AWSMx1 gold medal at the 2015 World Rowing Championships.
© • Detlev Syeb
By IPC
Competing while pregnant was tough enough but returning to form after giving birth is a whole other challenge for Israel's Moran Samuel ahead of Sunday's (9 September) World Rowing Championships in Plovdiv, Bulgaria.
While three months pregnant at last year's Worlds in Sarasota-Bradenton, USA, Samuel fought through morning sickness and tiredness to capture silver. Then in April, her and her partner welcomed their second child, a baby girl.
"I tried to avoid any thoughts of the pregnancy and to focus on my goals, which wasn't easy because I was [more] tired than usual," the 36-year-old recalled of the 2017 Worlds. "But mentally I told myself that it's like any other unwanted distractions you sometimes have during competition and you have to learn how to separate what you can and cannot control."
"I feel that my children made me even more motivated to do my best and set a good example for them on how it is to aim high"
The 2015 and 2016 seasons were Samuel's strongest form. She powered her way to her first major title at the 2015 Worlds but was pushed to bronze at the Rio 2016 Paralympics.
A former stand-up basketball player, Samuel was not sure if she would go for Tokyo 2020.
But she was certain about one thing: she wanted to get pregnant.
Enduring 55 hours of labour, Samuel described 28 April as a "powerful experience."
"Bringing life into this world is remarkable. Words will never be enough for me to make it tangible as it really is," Samuel explained. "It was a very long journey, and it wasn't easy physically to help her go out, but I was determined to avoid caesarean section."
Six weeks later, she returned to training for the 2018 Worlds, where she will race in the PR1 women's single sculls (PR1 W1x).
The decision
It was a collective decision with her family, coach and the Israeli Paralympic Committee to go for Plovdiv.
"We decided not to decide and see how it goes," Samuel said.
Her training routine was very different from what she was used to.
It has revolved around her 6am morning breastfeeding, and after her morning session in the water, she would return for the next feed.
She has worked with a personal fitness coach and a "smart and careful" training programme to build up to World Championship form.
"The birth experience brings the body to the extreme and the first few weeks were hard and painful," Samuel said. "I actually felt that the greater challenge was mentally to try and find room for training in your baby schedule without feeling that you are being selfish."
Family affair
Samuel and her partner welcomed their first child just prior to Rio 2016.
They watched her capture Paralympic bronze, and Samuel said having her family at training camps and competitions is rather calming.
Having another young fan in Plovdiv will motivate her to the finish line, despite the rowing pains.
"I feel that my children made me even more motivated to do my best and set a good example for them on how it is to aim high, do the maximum and enjoy the journey," Samuel said.
"Most women athletes are done with their professional career before they have children. In Paralympic sport many of us start our professional career later in life and some even already have a family to take care of.
"I've learned with the years that athletes are different in their approach towards it. Some need their time away from the family in order to prepare and concentrate before big events, but I need to have my family with me."