Plovdiv 2018: Ellen Buttrick's brilliant breakthrough
27.10.2018
New talent a rising star for British PR3 mixed coxed four crew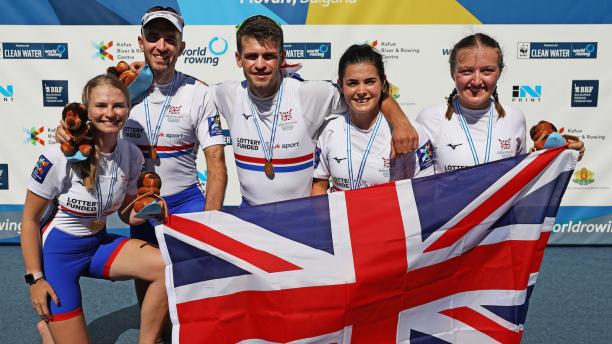 Ellen Buttrick (R) celebrates with her Great Britain teammates after winning gold at Plovdiv 2018
© • Naomi Baker
By Lousie Wood | For the IPC
In less than a year, Ellen Buttrick went from joining Great Britain's Para rowing team to becoming a world champion.
The feeling of having the gold medal around her neck in September's World Championships was confirmation that her efforts paid off.
"Achieving something that you have worked so hard towards and sacrificed for, but also never really considered attainable, is such an amazing feeling," Buttrick said. "And you can see from the pictures and video from the day how happy and excited I was about the entire experience."
There was an uneasy moment for the 23-year-old and her PR3 mixed coxed four (PR3 Mix4+) crew in the final when the US team took an early lead.
"At one moment in the first kilometre I did question whether I would be happy with silver and the answer was no and looking back at the video of the race I can see myself taking a considerably stronger stroke compared to my norm," she said.
Keeping tradition going
The result is more impressive considering it was the crew's first time racing together. Buttrick replaced the injured Giedre Rakauskaite to join Grace Clough, Ollie Stanhope and Daniel Brown (replacing James Fox); as well as new cox Erin Wysocki-Jones for their first competitive outing as a team.
They had the burden of trying to make it eight world titles in a row for Great Britain.
Buttrick was willing to take on the challenge.
" I commuted t the National Training Centre in Reading every week on a Wednesday evening after work returning back after water sessions on the Saturday, 4.5 hours each way on the train," Buttrick explained.
"I think that we made the most of the sessions that we had and this is why we were able to perform in the final," continued Buttrick. "I was fortunate to get some weeks away from work leading up to the World Championships which allowed us to train consistently in the boat and to develop as a crew."
Back to the grind
Despite showing such commitment, Buttrick's seat in the boat is far from secure for the 2019 World Championships, where Great Britain can qualify for the Tokyo 2020 Paralympics.
"I would love to represent Great Britain at the Paralympics in Tokyo but there is strong competition for seats in the squad and I am still quite new to the programme," Buttrick said.
She started rowing six years ago but turned to Para sport after losing part of her vision due to an inherited form of Juvenile Macular Dystrophy. In August 2017, she attended a Para rowing talent identification day.
"My goal now is to continue to develop as an athlete over the next season to see if Tokyo could be an option, " she said.
Therefore, the grind continues.
" Most of the team are full-time athletes but at the moment I work part-time for the Refugee Council charity where I live in Leeds, and so I'm planning on training around my job over the winter," she said.