Piers Gilliver becomes first British player to win Grand Prix
23.10.2014
The wheelchair fencer made Great British history with his victory in Warsaw, Poland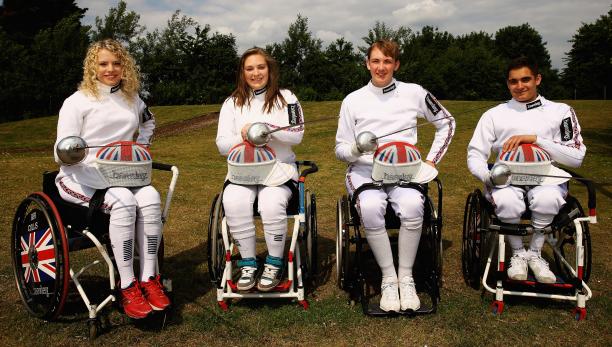 Gemma Collis, Gabi Down, Piers Gilliver and Dimitri Coutya of the Great Britain Fencing team. Piers Gilliver, who has won gold at his last three world cup events, is aiming for a remarkable fourth consecutive title at the Montreal IWAS Wheelchair Fencing World Cup.
© • Getty Images
By Mike Stuart | for the IPC
"That moment when I scored the winning hit is one that dreams are made of and hard to put into words."
The favourites faltered at the IWASF Wheelchair Fencing Grand Prix in Warsaw, Poland, between 25-28 September, but for Great Britain's Piers Gilliver, it was time to shine.
Gilliver has long threatened to take a major international title, but in Warsaw, he made that dream a reality in dramatic fashion.
Having already knocked out world No. 2, France's Roman Noble, in the semi-final of the men's category A epee event, Gilliver found himself facing Poland's Dariusz Pender, the world No.1 and reigning Paralympic champion, in the final.
Few would have bet against Pender at his home event, but Gilliver matched him blow for blow in a thrilling final that came down to one crucial point.
"There was great support for Dariusz from his home crowd," explained Gilliver.
"I'm guessing that when the final went to 14–14, he was feeling just as pressured as me."
Gilliver, 20, showed composure beyond his years as he landed the crucial blow to defeat the experienced Pender. It was a strike that will live long in his memory.
"That moment when I scored the winning hit is one that dreams are made of and hard to put into words," he said.
"It felt pretty special to hear my country's national anthem on the podium too."
According to Gilliver, now the first member of the Great British team ever to win a Grand Prix event, fencing against such high-profile competitors will help him secure further titles:
"There is so much that can be learnt from facing such skilled, experienced fencers, it also helps me gauge my own skills and where I am within the sport.
"I guess the key to beating any competitor is to be fully prepared, work hard for each and every hit and, most importantly, stay focused throughout"
The Warsaw Grand Prix event was the first wheelchair fencing event to offer qualification points for the Rio 2016 Paralympic Games, which is where Gilliver firmly has his sights, provided matters away from the piste do not get in the way.
"My long term goal is probably one that is shared by all athletes – to win a Paralympic gold medal at the Rio 2016 Paralympics, at Tokyo and beyond. In the short term my aim is to continue these good results in order to qualify for Rio 2016."
Gilliver has another challenge to overcome, however. Following a loss of funding earlier in the year, he is now campaigning for financial support to meet the day-to-day costs of training and competition.