Para-Table Tennis: 12 Facts for London 2012
16.04.2012
The top 12 things you should know about Para-Table Tennis at the London 2012 Paralympic Games.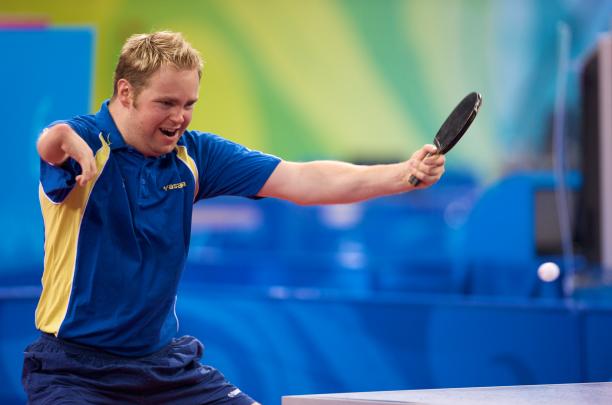 Swedish Table Tennis player Fredrik Andersson
© • Lieven Coudenys
"Table Tennis was developed as an after-dinner game ."
Para-Table Tennis is all about power, agility and skill.
Here are 12 things you should know about Para-Table Tennis at the London 2012 Paralympic Games:
1. Who, what, where, when?
174 men and 102 women will take part in 29 medal events from Thursday 30 August – Saturday 8 September 2012 at ExCeL.
2. Big sport
Table Tennis is the third largest Paralympic Sport in terms of athlete numbers, behind Athletics and Swimming. It is now practiced by athletes in more than 100 different countries.
3. History
Table Tennis was included in the first Paralympic Games in Rome in 1960 (28 years before the sport made its Olympic debut). Events for standing players were first included at the Toronto 1976 Games, while athletes with cerebral palsy took part for the first time in Moscow in 1980.
4. Invention
Table Tennis was developed as an after-dinner game played by upper-class English families in the late nineteenth century.
5. Measuring up
Tables are nine feet long (2.74m), five feet wide (1.52m), and 2.5 feet high (76cm). The net is six inches high (15.25cm). The game is played with a 40mm diameter ball weighing 2.7g. Officially (according to the ITTF) players use a laminated wooden "racket" covered with rubber on one or two sides, but in Britain it is commonly referred to as a "bat," and in the US, it is called a "paddle."
6. Classification
Athletes from all physical impairment groups, aside from the visually impaired, are allowed to compete in standing or sitting classes (played in wheelchairs). Intellectually impaired athletes can also compete. A total of 11 different classifications are used in Table Tennis at the Paralympic Games. Classes 1-5 cover wheelchair athletes, classes 6-10 cover standing athletes and class 11 covers athletes with an intellectual impairment.
7. Events
Men and women can participate in individual, doubles or team events. At London 2012, all individual events will begin with a group qualification stage followed by a knockout competition, with athletes progressing through the draw until the finals. The team events will be conducted according to a direct knockout format.
8. Scoring
At the Paralympic Games, matches are played over the best of five games, with the first player to 11 points (by a margin of two points) winning each game.
9. Rules
The rules differ very little from the able-bodied game. The exceptions are that in matches for wheelchair athletes the service ball must leave the table at the end rather from the side, so that it is within immediate reach of the player receiving it. Secondly, athletes with an arm amputation or hand impairment do not need to throw the ball up when serving.
10. Venue
The Table Tennis competition at the London 2012 Paralympics will be held at ExCeL, a multi-purpose venue that will also host a number of other sports, including Boccia, Judo, Powerlifting, Sitting Volleyball and Wheelchair Fencing. A day pass is available so that fans can watch a variety of different events.
11. Beijing 2008 medals table
China dominated the Beijing 2008 medals table for Table Tennis, winning six gold, six silver and one bronze medal.
12. Governing Body
Table Tennis has been governed by the International Table Tennis Federation (ITTF) since 2007, when it was handed over from the International Paralympic Committee (IPC).