Panasonic supports Para powerlifting with audio-visual solutions
19.11.2018
Asian-Oceania Championships marks first partnership in major competition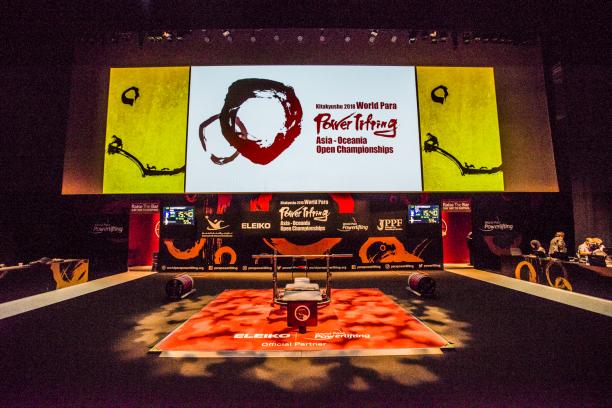 Kitakyushu 2018 marked first Panasonic-World Para Powerlifting partnership at major competition
© • Hiroki Nishioka
By World Para Powerlifting
The Kitakyushu 2018 Asia-Oceania Open Championships marked the first time Panasonic partnered as visual and audio-visual equipment supplier at a World Para Powerlifting event.
The Regional Championships, which took place in September, was the first major Para powerlifting competition to be held in Japan and a mandatory event for powerlifters from Asia and Oceania aiming to qualify for the Tokyo 2020 Paralympic Games.
Panasonic cooperated in the running of the event by supplying equipment and enlivened the five days of the competition to strengthen their relationship with World Para Powerlifting and promote Para sports in the country ahead of the Tokyo Games.
"It is an honour to be highly evaluated by World Para Powerlifting for the support of the sports' success with equipment and visual solutions. We have succeeded in demonstrating the high quality of our technology," a spokesperson from Panasonic said.
"Panasonic will continue to propose its latest equipment for use at future competitions to achieve the success of the Tokyo 2020 Games and to generate momentum for the Paralympic Games," the spokesperson added.
In Kitakyushu, two projectors were used behind the main stage where the athletes competed to provide live images and close-ups, which created extra excitement for the event. The competition time was shown on two displays set in the wall on the stage and one display to the side of the stage.
Panasonic also supplied seven displays that showed live footage of the athletes' performances and scoreboards in preparation and practice rooms behind the stage.
"World Para Powerlifting is very pleased with the support provided by Panasonic at the Kitakyushu 2018 Asia-Oceania Open Championships. The participating athletes and countries also expressed their satisfaction with the experience they had in Japan. We look forward to working with Panasonic again in future competitions," said Jorge Moreno, Head of World Para Powerlifting.
To support the spotter/loaders when adding the weights onto the barbells, Panasonic provided ATOUN Model Y Power Assist Suits.
A hands-on experience area for the Power Assist Suits was set up outside the venue and provided an opportunity for coaches and athletes from around the world, members of World Para Powerlifting and visitors to experience the product.